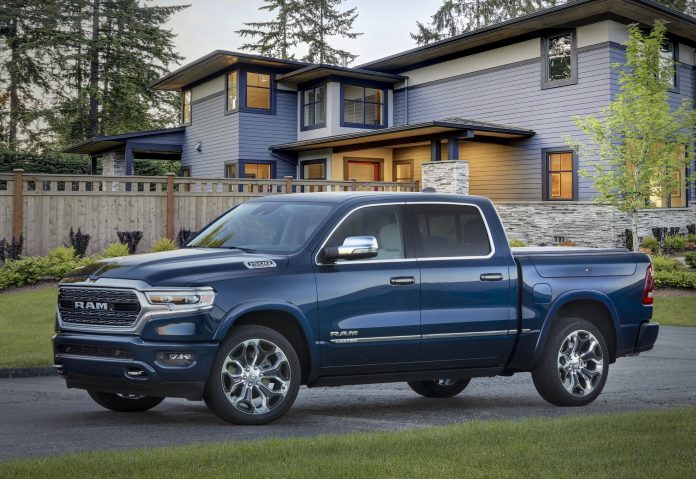 What do you do when you have one of the best selling half tonne pickup trucks in the industry. A truck that has reshaped what we consider to be luxury for a pickup truck and shed old school concepts for truck suspension systems. You celebrate its 10th anniversary with all these things epitomised.
The 10th Anniversary Dodge Ram 1500 Limited eTorque begins with Ram 1500 Limited as its base. Powering the 10th Anniversary is Ram's 5.7L eTorque V8 (mild hybrid) engine or its 3.0L EcoDiesel. The as tested specimen was the 5.7L eTorque variant. It provides a smooth responsive delivery of power. The mild hybrid system is not there to break fuel economy records; however, it does assist with making stop and start transitions extremely smooth.
Inside, the anniversary edition ups the benchmark for luxury set by itself.  The exterior is covered in a gorgeous Blue Shade, a brilliant midnight blue sky-type colour that screams richness.  The inside is covered in an indigo and sea salt colour scheme, that combines supple quilted leathers and suede accents around the interior.  Everywhere you touch or look is covered in these opulent materials.  The space both front and rear is huge for a lack of a better term and you feel like you are separated from the passenger by 2 feet of center console.
You have the class leading 12 inch vertical infotainment screen and digital/analog cluster that greets you with unique 10th Anniversary Badging. All of this is rounded off with a 19 speaker, 900 watt, Harmon Kardon Sound System. The exterior gets a multifunction tailgate, Mopar center-mounted bed step and adjustable cargo tie down hooks and Ram boxes. Take my word for it, these are a god-send when grocery shopping or having to lock items away without using up the rear seats and interior.
Despite being 10 years old, the Ram 1500 continues to lead the field in design and comfort. It's no reason other manufacturers are still trying to emulate it even today. The 10th Anniversary Edition is a fitting tribute to Ram. It personifies what the 1500 stands for in the most competitive segment of the auto industry. Coming in at an as tested price of $85,380.00 you are not going to get a better example of a pickup truck that will check off every box you have.