It was 27 years ago that we last saw this moniker. A moniker that is legendary in the SUV hall of fame and for good reason; without this vehicle, what we so joyously laud around in today as the replacement for the venerable sedan/car, would not exist. Or maybe more accurately, we would have waited a lot longer before the modern day SUV became so mainstream. Say the name Wagoneer, and instantly one recalls wood sided beach wagons and surfboards mounted to the roof. The modern retake of the Wagoneer is light years ahead of its father in every imaginable way. However, it still retains some of its core DNA values; the most prominent being a body on frame design that is a modified design borrowed from the Ram 1500.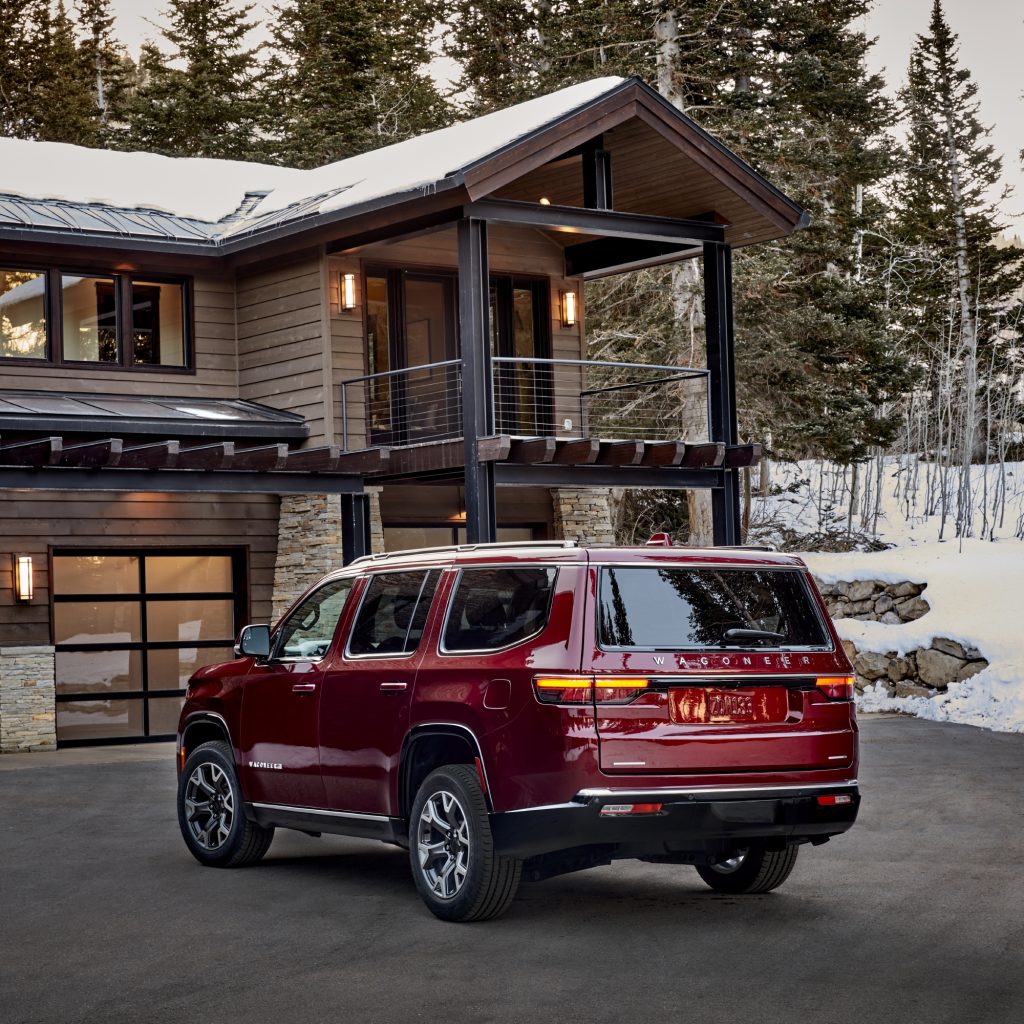 The Grand Wagoneer promises to be a top-of-the-line SUV, with advanced technology, premium materials, and a spacious and comfortable cabin. It will be marketed as a premium extension of the Jeep brand. The vehicles will not carry the Jeep name, and you will be hard pressed to find any mention of the word Jeep around the Grand Wagoneer or Wagoneer. This is to allow the Wagoneer name stand out and apart from its lesser Jeep compatriots. How so, you ask. Let me tell ye the ways.
The exterior of the 2022 Jeep Grand Wagoneer features a bold and distinctive design, with a large front grille, sleek LED headlights, and a sculpted hood. The SUV sits on large wheels, and features a high stance that gives it a commanding presence on the road. Although it appears boxy at initial glimpse, it feels modern and refined. Under the hood, the as-tested Grand Wagoneer came with a 6.4-liter V-8 generating 471 hp and 455 lb-ft of torque. The lesser Wagoneer comes with 5.7-liter V-8 with the eTorque 48-volt mild-hybrid system. Output stands at a respectable 392 horsepower and 404 lb-ft of torque, and a 10,000-pound towing capacity. Oh, did I mention that V8 exhaust note is intoxicating to say the least.
The interior of the Grand Wagoneer is equally impressive, with premium materials and advanced technology throughout. The show stopper is in the form of a dual stacked u-Connect infotainment screen, which, when combined with the instrument cluster, total 46 inches of total front displays. The cabin literally has miles of soft supple Nappa/Palermo leather and American walnut inlays that surround the cabin and that cabin is cavernous. Seating is deep cushioned and front occupants are indulged with massage settings to put your RMT to shame. You get room for up to seven passengers. Of course, Apple Carplay and Android Auto come standard, as does an industry first Amazon Fire TV, built in, for rear occupant displays.
The Grand Wagoneer also comes with a range of advanced safety features as standard, including lane departure warning, automatic emergency braking, and rear cross traffic alert. Additionally, it comes with an advanced four-wheel drive system that provides added traction and stability on the road which can be customized with 5 Selec-Terrain settings along with Quadra-lift air ride suspension which can lift the Grand Wagoneer an additional 3.6 inches to provide a maximum of 10 inches of total ground clearance.
The full-size luxury SUV market has few players. The instant candidates are the:
Cadillac Escalade
Lincoln Navigator
Mercedes-Benz GLS
BMW X7
Lexus LX
Infiniti QX80
Land Rover Range Rover
All of these SUVs are known for their luxurious interiors, advanced technology, and powerful engines. However, people looking to Grand Wagoneer will likely not be eyeing the Europeen and Asian competitors. Against it's North American brethren the Grand Wagoneer offers something neither Lincoln or Escalade can offer and that is V8 power (at least until Cadillac brings out its V Series – maybe the Grand Wagoneer can reply with a SRT variant, wink wink).
The return of the Wagoneer to Jeep is a major brand revival. It also marks a step into a very competitive segment, that for a long while has been dominated by the likes of Cadillac and Lincoln. On paper and behind the wheel the Grand Wagoneer has the brass to go up against both and in reality offers the buyer a clear and distinct alternative. One that has off-road prowess and DNA missing from the other two. With an as-tested price of just over $120,000.00, the price of exclusivity is not cheap. However, can you really put a price in being exclusive and unique at the same time, I think not.