2023 Honda Civic Si
Price: $35,130 CAD
Colour: Rallye Red
As a kid who grew up in a poor household, we never really had a decent set of wheels. The family cars we did have were typified by their price point, which is to say it was as low as possible. This meant we had a cavalcade of crappy cars roll through over the years, the best of which was a 1981 Toyota Tercel with stylish calf-skinned seat covers my father was terribly proud of. Hid the rips in the vinyl you see. Imagine my awe then when, at the impressionable age of 15, I sat in my first Honda Civic. It was a fifth-generation hatchback model. While I struggled to get into the back seats, I marveled at how it started every time my older friend turned the key. There was also a distinct lack of oil smell once the engine heated up. What witchcraft was this? Was my friend rich? As far as I was aware this wasn't the case and yet his car was incredible. Upon further inspection and interrogation, I discovered that wasn't just any Civic hatchback, but a Civic Hatchback Si. In my world, Si stood for Sports Illustrated which I only read for the annual edition featuring scantily clad swimsuit models. The Si on this Honda though stood for "Sport Injected". I didn't know what that meant, but that day began a love affair that's endured for nearly three decades. I've wandered and wavered over the years. I've sampled many other treats the world has to offer but always there was the Civic Si. I'm pleased to tell you then that after 30 years, the Civic Si is still this poor kids Ferrari.
Power & Performance
Much is written by the automotive press about the impending end of the manual transmission. I grew up with manuals and made it a priority to learn how to drive one as soon as I got my license as a kid. I love the tactile feel and the thrill of revving the nuts off a car and bouncing it off the redline as I slam it through the gears and listen to it sing (just kidding Honda I was very nice to your car… mostly). The truth of the matter however is that nobody who buys cars really wants a manual anymore. 1.7% of new cars sold so far in 2023 are manuals (curiously that's up from 2022). That number is still so small that every year we lose a few of these unicorns to the history books. They're not all gone however as Honda is still giving us the Civic Si with a proper 6-speed manual gearbox. I won't lament the fact that you can't get it in a hatchback or a coupé anymore. I'm learning to get what I get and not get upset.
This 6-speed manual is attached to Honda's 1.5L turbocharged four-cylinder engine. The turbo kicks the power up to 200hp and 192 lb/ft of torque. This is a potent combination as the Civic Si flies when you put it in the right gear and mash the pedal. There is little to no turbo lag as the car leaps forward and pulls right to the red line. It never stops giving. The throw is short as you kick it through the gears which are long and very forgiving. This car makes you feel like a professional driver (of the racing kind, not Uber). The traditional inclination for the front wheel drive setup to torque steer you into the nearest available bit of landscaping is completely tamed by the fancy differential Honda threw into the Si. It's called a "Helical Limited Slip Differential" and it's witchcraft. It keeps all those horses on the tarmac where they should be. All this combines to give you one of the most satisfying driving experiences I've had since I was a young man, and the world was my oyster. It makes me feel alive.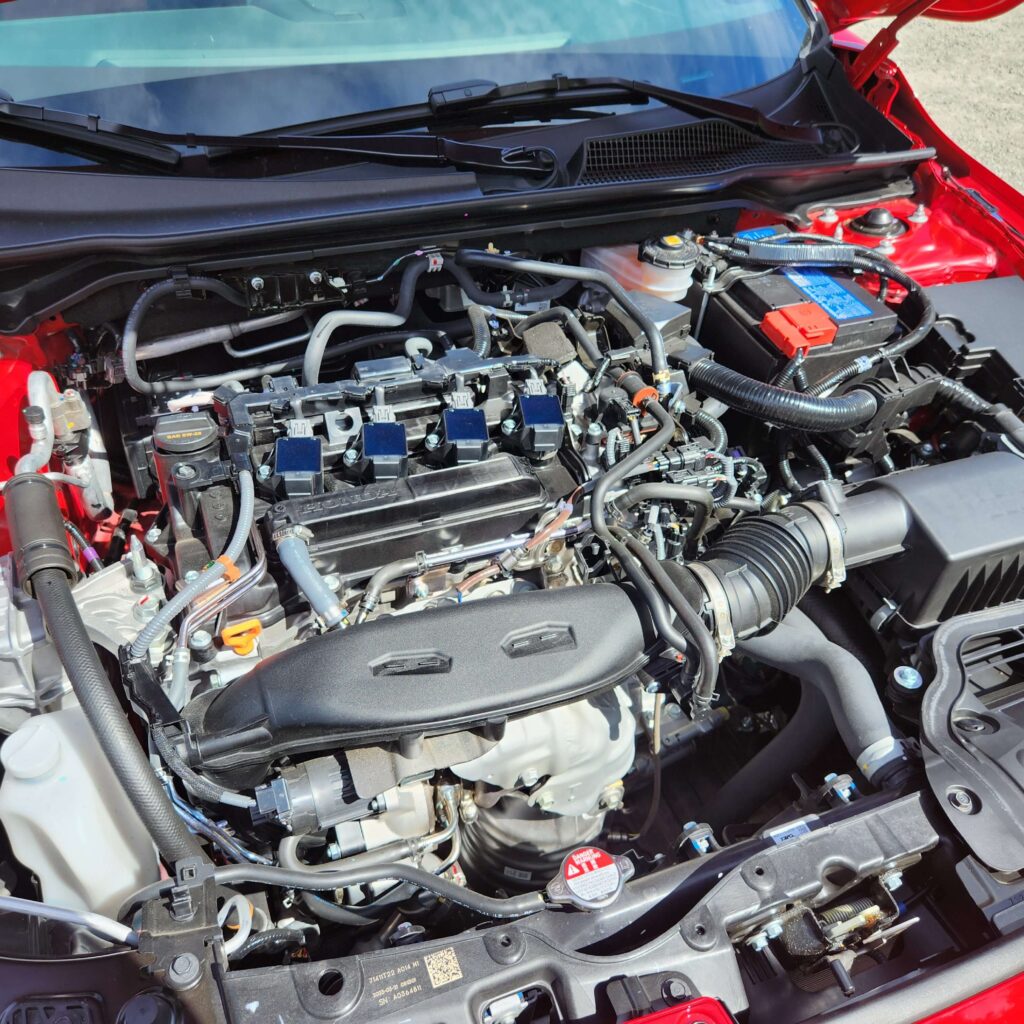 Exterior
The fifth and sixth generation Civics were my Honda Civics. They were also very pretty. Not the sedans of course, those were for losers. The hatches and coupés were the pretty ones. You can't get a hatchback or a coupé anymore, Si or otherwise in the Civic. That's a shame but another victim of shifting consumer tastes toward the now ubiquitous SUV offerings. The Civic is now only available as a four-door. Bummer… yes. However, Honda have pulled off a trick as the four-door Civic looks really good. In the Si trim with its associated bits and pieces it looks damn near sporty. Who knew? You won't be disappointed with the four-door Si. When you boil it down it doesn't really matter as you won't want anyone in the back seats, they only slow you down.
Interior
This is the part of my reviews where I typically touch on the interior bits and pieces that I like and dislike about a car. With the 2023 Honda Civic Si, I'm going to deviate from the usual because this is an unusual car. When I booked the Civic Si I knew it deserved something special. I wanted to take it for a long drive with no particular purpose. I wanted to get lost a little and really open this thing up and see what she can do on an open road with lots of twists and turns. I arranged a one-day road trip that covered over 700kms. It was mostly through mountains and canyons and had lots of twisty bits. I took a friend of mine along for the ride as spending too much time alone listening to episodes of The Joe Rogan Experience can be unhealthy. My buddy and I left early on a Sunday morning and put the world in our rear view. He was quickly impressed with how the Civic Si pulled hard and made a great sound. As impressive as the driving dynamics were and how beautiful the scenery around southern British Columbia was (wildfires aside), the thing that struck both of us about the Si was how comfortable it was. We hammered along for hours and never once did our backs ache or our posteriors get sore. We stopped only to take in the sights or have a bite to eat, not because our old bodies demanded it. This was astonishing to us both. I'm fat and poorly proportioned and my friend is tall and doesn't typically fit into anything outside of a full-sized pickup. The Si held us both like a gentle lover and carried us along without a worry in the world. It was an incredible experience.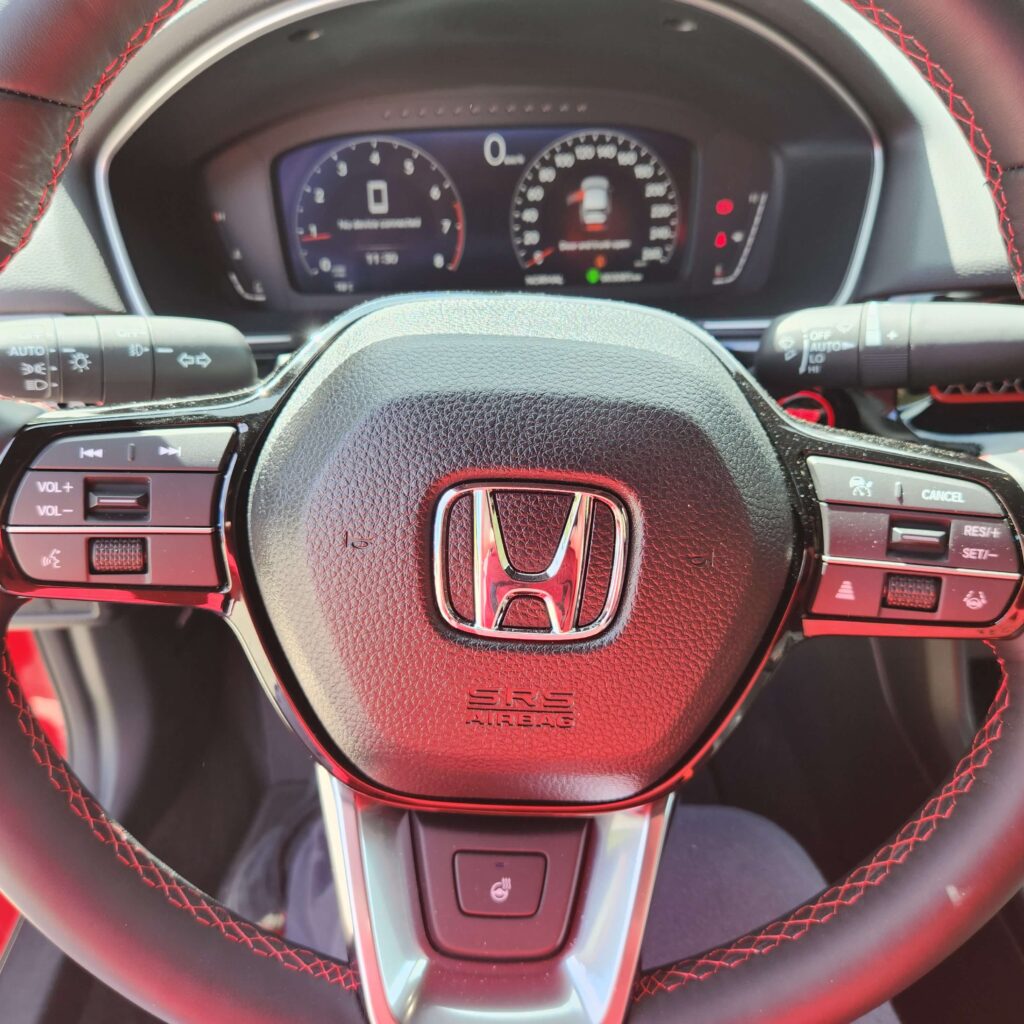 Quality
After driving over 1000kms in the Civic Si I can say with authority that it's built like a Honda should be. It never mis stepped or stumbled. It ran like a top and made no noises it shouldn't have. The materials are top shelf for a car like this and, try as I might, I couldn't find anything to complain about. This is a very well-made car.
CQI – 9. Great carpet.
Value
At 35k the 2023 Honda Civic Si is good value. It's list of competitors is also short. The Hyundai Elantra N comes closest as it's another four-door sports saloon with a hopped-up engine and other bits. The problem with the Elantra N is it costs $5,000 more and while it has more power (276 hp compared the Si's 200), I'm not sure any tricky diff can tame that much power through the front wheels and have it equate to an improved driving experience. That being said, it's a required test drive before making your buying decision. 
Final Thoughts
The 2023 Honda Civic Si is a wonderful car. It's nearly perfect in the eyes of a man who, as a boy, was shown what a good car was in the form of a Civic Si. You can still have it in a manual and that is a precious thing to be appreciated. If you don't drive a manual, you won't know what you're missing and that's your loss. Before the entire world drives AI controlled EV transit boxes and the manual transmission vehicle dies its inevitable death, drive a Honda Civic Si. You won't forget the experience.