2023 Honda Passport Touring
Price: $54,090 CAD
Colour: Platinum White Pearl
I remember when Honda introduced the Pilot way back in 2003. I wasn't overly impressed with the vehicle but knew how necessary it was for Honda to have a player in the rapidly expanding SUV segment. The Pilot has always been a strong seller for Honda and it came as no surprise they opted to introduce a (slightly) smaller variant to expand their offering. The Passport was introduced in 2019 and face-lifted for the 2022 model year. It has the same powerplant and shares a platform (albeit a little shorter) with the Pilot. The major difference is you top out at 5 seats as there is no 6 or seven seat option for the Passport which is really the whole point of this car.
Power & Performance
The 2023 Honda Passport has only one engine option. You get the 3.5L V6 that delivers 280hp and 262 torques. That power is sent to the wheels through a 9-speed auto. The package gives you decent power but nothing approaching fun regardless of the drive mode you select. The disappointing part of the drivetrain is the poor fuel economy. The Passport is thirsty. I'd heard the same thing about the Pilot and it's little sibling is no different. The next generation of this vehicle could use a smaller, turbo charged power plant if 15L/100kms is the best they can get out of this engine.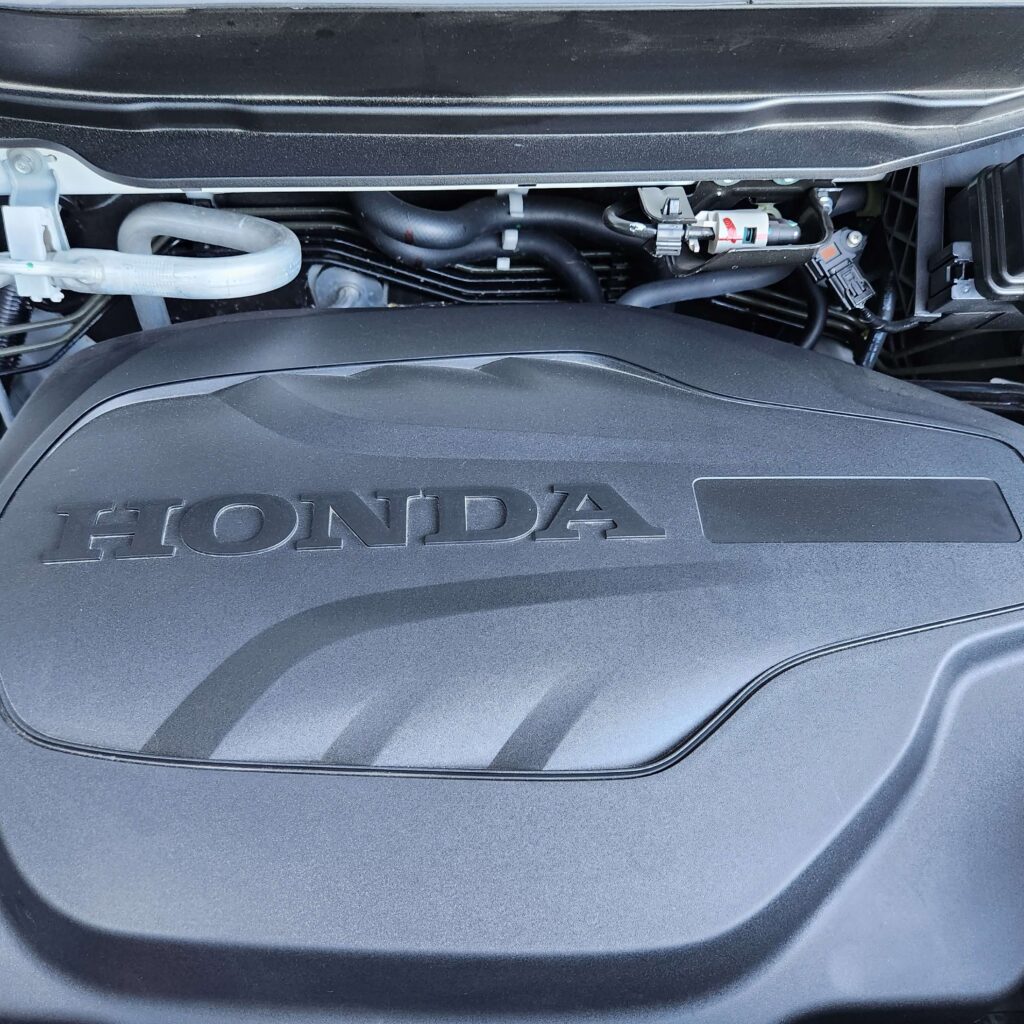 Exterior
The 2023 Honda Passport is good looking. It has solid proportions and a modern façade. The face-lift they gave this thing in 2022 kept this car fresh and interesting. That being said the exterior design of the Passport is… conservative. I was going to say boring but thought better of it. Other manufacturers add a little pizzaz and razzle dazzle to their designs and Honda clearly abhors that sort of thing, going for the safe route instead. I'm sure they know their customers and what they would like, but it leaves me with little to get excited about.
Interior
The interior of the 2023 Honda Passport features a good quality interior that, while serviceable and well built, leaves me as uninspired as the outside. An example of this is the sunroof. You get a standard (read small) sunroof in the Passport while its competitors offer full panoramic roofs that allow the light of the world to cast aside the darkness that inhabits the interiors of cars like the Passport. It makes the design feel old.
Infotainment systems have quickly become the focal point of modern cars. As such I always make a point of putting them through their paces. The standard Honda system we typically get is present in the Passport and it works… fine. It has a small screen and an uninspired interface. It's a bummer as we get so much better in many other cars.
I'm all for sharing components on vehicles across a manufacturer's range. When you use one component so much you can't recall another option you've gone too far. The steering wheel on the 2023 Passport has got to be nearly 20 years old. I remember this thing on the 2009 Honda Civic I bought many moons ago. Hasn't changed a bit.
It's not all bad on the inside of the Passport. You get wonderfully thick door panels in this vehicle. I hate thin door panels, so these beefy beauties are a sight for sore eyes. Embedded in the rear door panels are cup holders… in the doors! I can't tell you why this delights me as much as it does, but it made me smile. I'm a human, accept it.
Also in the rear is a full HVAC control cluster on the centre console. It also has vents which keep your rear passengers cool or warm depending on the season. Something else to help with environmental stability in the back are the heated seats. Believe it or not some manufacturers skip this piece of equipment in the rear so I'm always happy to see it.
One very pleasant surprise in the Passport was the rear cargo area. You get lots of space in this thing. So much space that I thought I was looking at the rear area of a Pilot instead. This sort of brings me to my biggest criticism of this car. A 5-seater Pilot would be nearly identical to the Passport. You'd have the same big cargo area and five seats. In my mind, it makes this car completely redundant.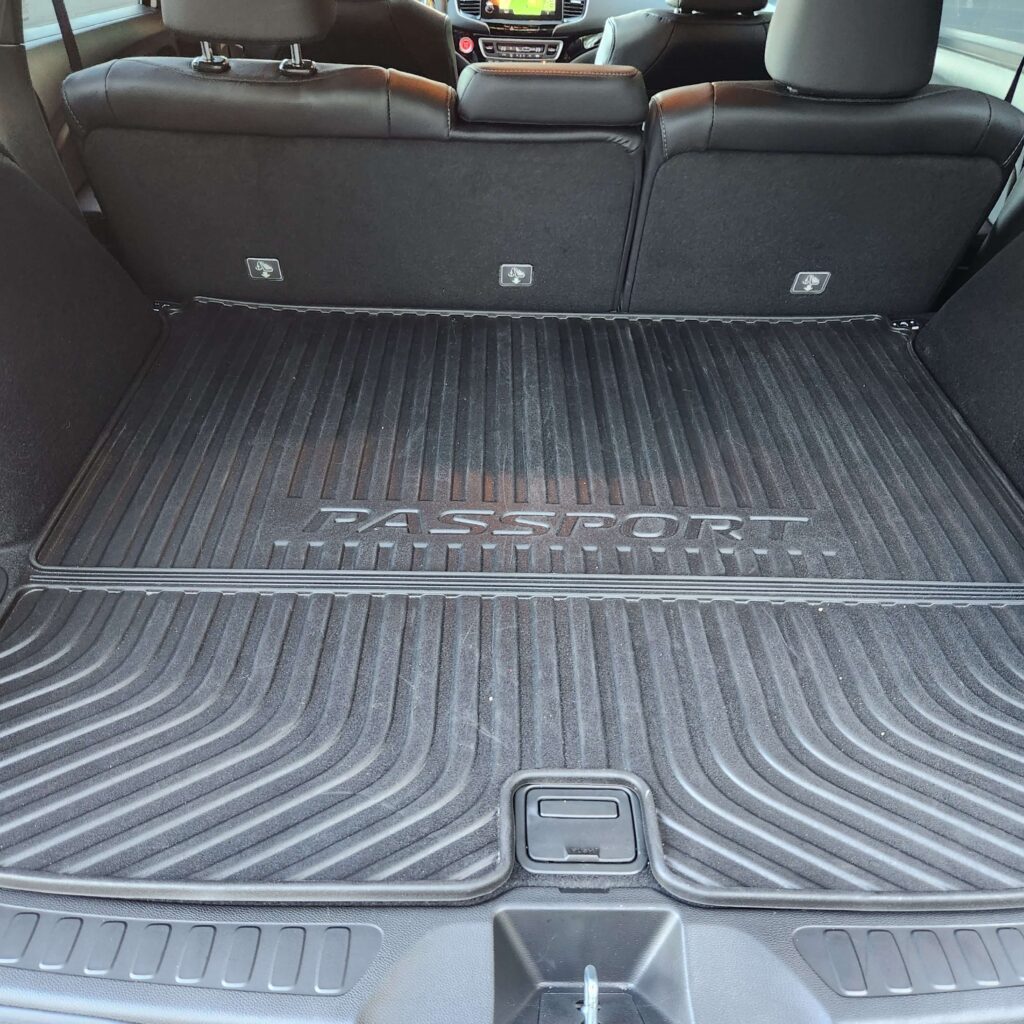 Quality
Honda build quality is pretty legendary. It's on display in the Passport regardless of how subdued the overall design is. The interior is sturdy and made from good quality materials. The engine, while thirsty, is strong and feels like it would run forever.
CQI – 8. Good carpet. Thank god.
Value
The 2023 Honda Passport Touring costs $54k. That's a lot of money. It's also a 5-seater SUV, which means it has 4,785 competitors. There are so many cars in this category I can't even whittle it down to a selection of others you should drive. Some cost the same, some a little more, many cost less. The Passport ultimately feels conservative and "old" compared to most of the other choices you have. If all you want is something well made that will run forever and don't mind paying for it, this is the car for you. If you need a little spark in your everyday drive, keep looking.
Final Thoughts
I wanted to love the 2023 Honda Passport. I adore Honda and admire their cars. Sadly, they really seem to be resting on their laurels with their designs and the Passport confirms this. Combine that with the fact that the Passport is completely irrelevant as it only satisfies a micro-niche in their lineup and I was truly left wondering why they bothered at all. A 5-seater Pilot would have been perfectly acceptable and could have been sold for a similar price point. If you really want a 5-seater Honda SUV get a CRV, it makes way more sense and costs a lot less.