2023 Nissan Versa SR
Price As Tested: $23,098 CAD
Colour: Grey Sky Pearl
I can remember as a younger man what a "cheap" car was. It was horrible. They looked, felt and drove like a sheet of plywood with four wheels attached. We just didn't expect much from vehicles scraping the bottom of the barrel. The only upside to these vehicles was of course, they were cheap. It never really felt like a fair trade, however. You always knew you were broke and this was the best you could do. It kept you firmly locked into your lane and your peg on the socio-economic ladder was made clear. Modern times however have shifted things a little bit. You can drive one of the cheapest cars on sale today and not feel like your girl left you for your best friend after you gave her your grandmothers wedding ring. You might actually feel okay about yourself.
Power & Performance
The 2023 Nissan Versa comes with one engine option. You can have the 1.6L 4 cylinder that delivers a deeply underwhelming 122hp and 114lb/ft of torque. Yes, this isn't great. The SR spec I had on test was of course fitted with the universally beloved CVT transmission and this combo continued to bum me out as I drove throughout the week. I really do wish it had a little more power and even more crucially a healthier burp of torque. It doesn't need a turbo as that would skew the price point far higher and we're talking about a budge auto here.
Even with the small amount of power on hand I must say the Versa is able to motor about town just fine. Most of the time I could set off, switch lanes and pound it through a corner with enough thrill to not want to slit my wrists. It's on the highway the lack of power became more than in irritant. I had a gap I wanted to fill that would have put me ahead of a truck that had been (I swear deliberately) blocking me for miles I put my foot down and nearly found myself smeared all over the highway when the Versa replied firmly "I don't think so". I swung back into my original position and waited for larger gap to then pass my nemesis. This illustrated clearly that the Versa is largely designed for the more urban city running around and caution should be fully exercised should you hit the highway.
The 2023 Nissan Versa has rear drum brakes. I know this might not matter to some people, but I would have happily paid the extra $18/hub (or whatever the cost difference is) to have four-wheel discs. This is a shameful corner cut that is also present on my wife's 2019 Nissan kicks. Every time I look at those crappy drums in the back I wither a little.
Exterior
One area budget cars from the past always fell down was they were sort of ugly. Some had "singular charm" in their looks and got away with it but for the most part the cheaper the car the worse it looks. Makes sense I suppose since you might not aspire to the next model up if the one you can afford doesn't make you want to wretch. The 2023 Versa didn't make me throw up, I didn't feel the urge once. It's actually a good-looking little car. Small, four-door sedans are disappearing faster than phone booths and I was surprised the Versa was still around. This design was released in 2019 and was a huge upgrade for this little car. I'm almost certain we won't see another one as the sales figure for this vehicle are woeful and auto-makers don't keep making cars just because.
Interior
The 2023 Nissan Versa surprised me with a really rather pleasant interior. I didn't spy too much painful cost cutting and that's nice to see in a car rather typified by its budget nature. It was immediately obvious that this would be a decent place to sit as I traveled back and forth to work with a stop at the local grocery store as the highlight of my day.
I did say there weren't too many cost-savings measures on the Versa. That doesn't mean there are none. The Versa does feature the same horrible, Velcro-like carpet that isn't carpet. My wife's Kicks has the same crap lining its floors and it is true garbage. You can't clean it right and it rapidly falls apart leaving your car looking worse for the effort. Proper carpet is another one of those things I'd prefer they didn't choose to save money on.
One thing I didn't expect on the 2023 Versa was a wireless charging pad. Imagine my surprise when there it was, right there in the middle of the dash. I can live without wireless charging, but I'd rather not. To see it on a car in a segment like the Versa was a very pleasant surprise.
Nissan infotainment systems frustrate me. They always underperform. If it isn't low-res cameras, it's low-res screens. In the case of the Versa it's both as well as a very glitchy relationship with Apple CarPlay and Android Auto. Both are wired and worked intermittently while I had the car. I also gave the basic Bluetooth media player a go and that glitched to. It constantly disconnected and then reconnected. This was of course frustrating, particularly when it would die in the middle of an important phone call.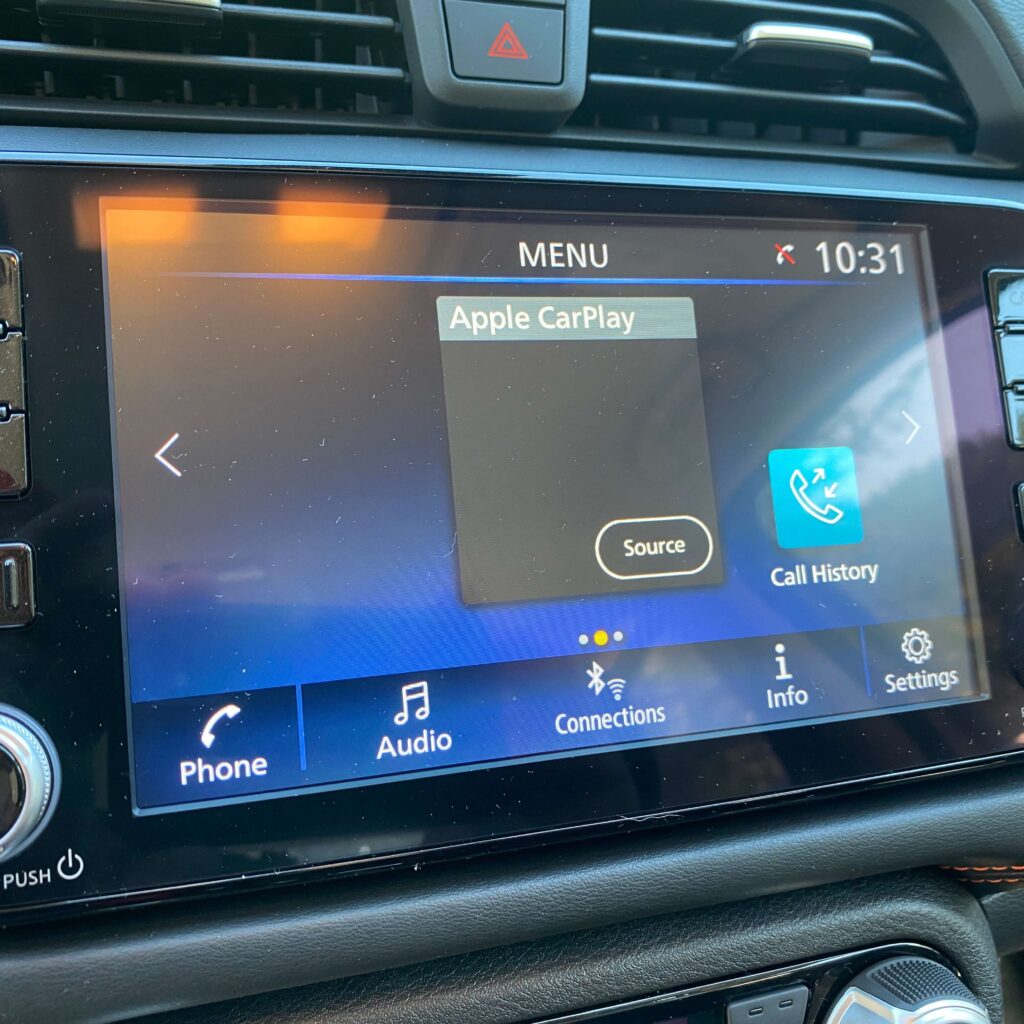 My wife's 2019 Kicks is a SR trim level. Top shelf. As a result, it comes with a PVC fake leather upholstery. It's not horrible and has held up remarkably well. That being said all I wanted was a nice fabric upholstery for the seats. You could have fabric but you couldn't get it with the top spec which means you didn't get the other toys my wife wanted. So sad. The Versa SR solves this problem by coming with a real-deal fabric upholstery on its seats. Bless me it's beautiful.
Quality
The 2023 Nissan Versa is not a quality automobile. It's not a horrible car but it's built to be disposable and that is clear in most aspects of the car. That's not inherently a bad thing as I like cars that know what they are. What's important with a car like the Versa is to keep your expectations firmly in check.
CQI – 1. Horrible velcro-carpet is everywhere. You've been warned.
Value
Since cars don't come much cheaper than the Nissan Versa it presents value right from the start. Since it's also not total rattle-trap, paper thin nor are its body panels made from reinforced tin foil, we can even call it a real car. Its residual value will be limited but it will give you lots of years of reliable service before you toss it and get another one.
Final Thoughts
Cheap cars have changed. That's a good thing. Starting prices have also changed. They've never been higher in fact. That being said, you do seem to get more for your money. If the circumstances of your life dictate you must purchase a car at the bottom of the list, you could do a lot worse than the 2023 Nissan Versa. We are no longer punished with the likes of the Kia Rio circa 1999 when we talk about and when we purchase a cheap car, and that's a great thing.