2023 Volvo V60 Cross Country Ultimate
Price: $72,425 CAD
Colour: Denim Blue
It's been said that there can form a bond between man and machine. People can come to love inanimate objects. Such is the position I find myself in. I'm in a deep and intense relationship with a Volvo. Regular readers will know that I adore the Swedish brand, and nothing gets in my way. That relationship has evolved due to my recent time spent with the V60 Cross Country. Estate cars (wagons to us uncouth North Americans) have fallen so deeply out of fashion here they have become harder to find than phone booths. Nevertheless, I've harboured long and deep affection for them and Volvo wagons in particular. The 2023 Volvo V60 Cross Country is a superior example of this class of car, and I am absolutely in love with it.
Power & Performance
The 2023 Volvo V60 comes with only one engine option. You can only have the B5 2.0L Turbo and 48V Super Charger mild-hybrid system. It gives you 247hp and 258lb/ft of torque. This all travels through an 8-speed automatic transmission Volvo has taken to calling "Geartronic" and is delivered to all four wheels through the AWD system. This exact same powerplant appears in several other Volvos and it's fine in all of them. In the V60 however, it's a little something extra. I'm not sure if they've tweeked the power delivery or made other changes but the V60 is spritely and responsive with the B5 on-board. It's enough to get you going and give you what you need on the highway or the byways and make the car feel sportier than I expected.
The way the V60 drives is what caught me off guard. I'm largely a scared old man at this point in my life and aggressive sporting driving isn't something I routinely seek out. When it finds me however, I will respond. The V60 is set up to be both comfortable and sporty and seemingly neither are sacrificed to achieve the goal. Yes, you could jam more power into this little wagon, but it really doesn't need it and would probably spoil the fun you can have with it because you'd have to pay so much more attention to what you're doing. As it is, you just get to have fun and not worry. The car will take care of you.
Exterior
Estate cars in North America have many reputations, not the least of which is that they are ugly. This reputation is not unearned. The 70's and 80's saw a cavalcade of absolutely horrible monstrosities covered in deplorable wood siding and with proportions that were just heinous. The V60 is the exact opposite. It's beautiful, balanced and looks like someone designed it with care. It has excellent proportions and doesn't make one wrong step. The Cross Country version has an extra inch of lift in the suspension and while it does feature plastic cladding around the wheel wells, it doesn't look bad. It fits this thing to tee.
Interior
Let's get this out of the way. Google Built-In is a joke. It's a horrible system and I can't understand why Volvo insist on hitching their wagon to that particular horse. The functionality is better in recent iterations, but the system is still deeply flawed. I'd heard of problems with the screen flickering and just going black. I'd never witnessed it personally until I had the V60. The screen would flicker on and off and while it didn't turn off completely, it was very disappointing. They have chosen to tie so many functions into the infotainment screen that it simply must work. It must be as reliable (or more so) than the buttons and dials it serves to replace. At the current moment in time that just isn't the case.
The only thing missing on the V60 with regards to equipment is wireless charging. It's a strange omission but the XC90 didn't have it either so it must be slated for the next redesign. It's a missed component and is rapidly becoming a must-have piece of equipment.
The leather in the V60 (Nappa of course) is superior and absolutely lovely. It's all over the car and feels fantastic. The seats in the Ultimate level trim have a massage functionality that combined with the soft leather was very comfortable on several long trips I took in the V60.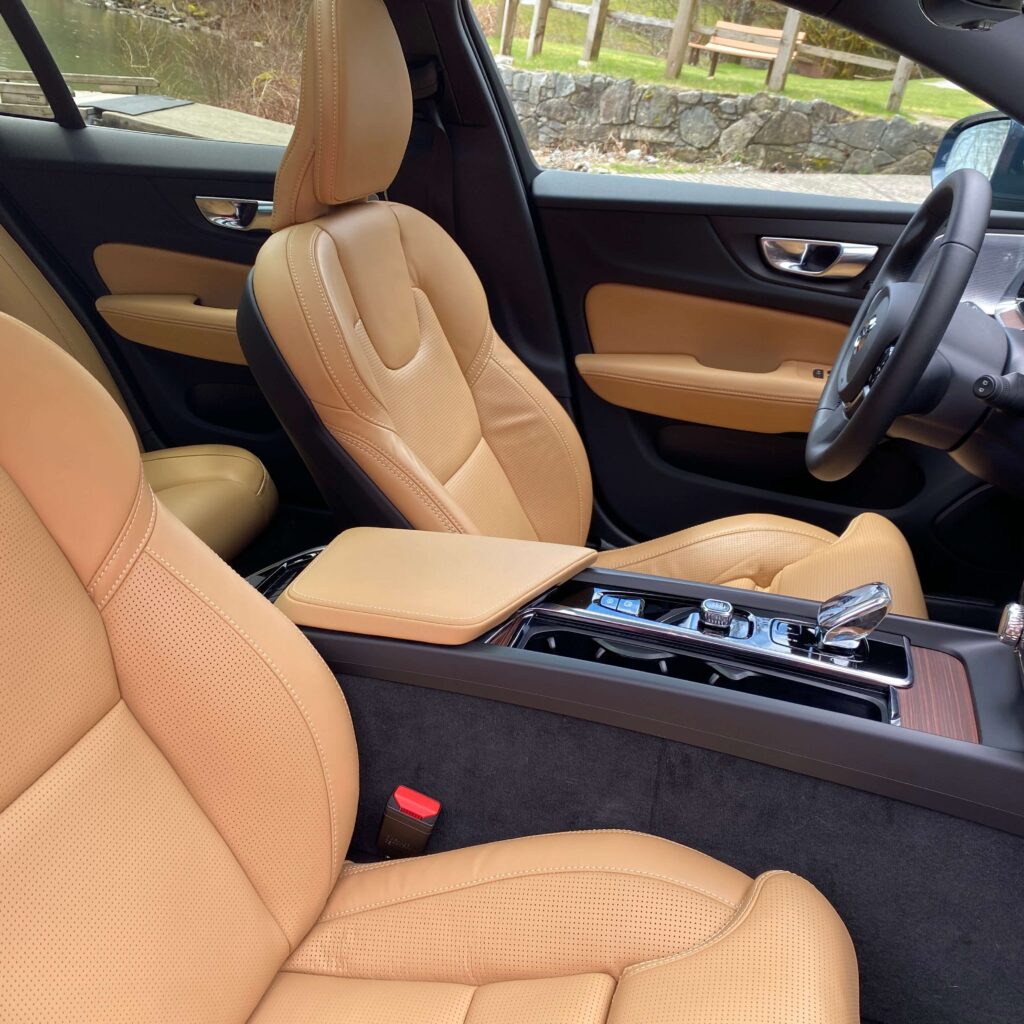 I had occasion to do an airport pickup in the V60 and I can say that I fit 3 full sized suitcases and several small bags plus three people in the backseats with ease. It's not an SUV and that's okay. It doesn't want to be. This is every bit as functional a vehicle and is comfortable with who and what it is.
In all trim levels of the V60 you get a panoramic sunroof that adds so much air and space to what is otherwise a compact interior. The fact that you don't have to order a higher trim level to get it is a wonderful bonus and, to be frank, a bit of a surprise. I spent time with the windows down, sunroof open on a warm day and it was lovely and I was grateful to have it.
Quality
Volvo build quality is always top shelf and the V60 is a wonderful example of how good it gets. There was no squeak or rattling no matter how hard I pushed it through the corners or over bumps. The materials used to make the vehicle are all excellent. I would have liked an alcantara headliner but otherwise, no corners cut in this vehicle.
CQI – 9. Excellent quality carpet. Well done Sweden.
Value
The 2023 Volvo V60 Cross Country sits in the market all on it's own. You can get cheaper wagons that don't have the polish, fit and finish nor look as good. Then there are offerings from the Germans that also don't look as good and cost way more money. If you choose the base model, which is a wonderful car all its own, and avoid expensive add-ons the V60 can be had for very reasonable money all things considered. Volvo's also hold their value in the used market, so your investment is safe and sound.
Final Thoughts
I'm a picky old man who is learning to pretty much hate everything. As a result, when something like the Volvo V60 Cross Country comes along and sweeps me off my feet I'm immediately smitten. This vehicle ticks so many boxes I'm even willing to ignore the horrible infotainment which might ruin other cars. The estate car will disappear from our roads one day not far from now. Market trends are what they are and there's nothing I can do about that. While they're still available I'm going to not only drive and enjoy them, but advocate that you do the same.