By: Jag Dhatt
It was only fitting that the first manufacturer to make trucks would make the first electric truck. Others have now come into the electric trucks category, but for now, the Ford F-150 Lightning is King.
I've been looking at testing the Ford Lightning for a while now and when the time came, I was stoked to drive it.
Right off the bat, let me say that Ford did the Lightning right; they kept almost everything about the gas-powered F-150 that people love. They just made it electric without taking away the heritage of the F-150.
For a week, I fell more and more in love with the Lightning. From someone who didn't think I'd need or want a truck, the Lightning changed my mind. I want one now. And why? Well, let's look at the Hits & Misses with the 2022 Ford F-150 Lightning.
Hit – It's Still an F-150
The Lightning isn't a truck that will make people think, "what is that?" When Tesla introduced their Cybertruck, it was unusual to the say the least. Take away the Lightning badge and front and rear lights, and the Lightning looks like a normal F-150. And for Ford lovers, this is important. From the side profile to the tailgate, it's an F-150, and from my point of view, a very handsome truck.
The distinguishing front lights are evident and, in your face, but at the same time, not overbearing. For me, they work.
On the inside, once again, for the most part, the Lightning is very familiar. The seats, windows, and styling cues are all from the regular F-150. The big difference, and I mean big, is the massive center screen that we've seen in the Mustang Mach-E. Sure, it's probably inspired by either the Tesla or the RAM system, but it doesn't matter. It holds all controls for all aspects of the Lightning. There is a slight learning curve, but for the most part, the Ford's new SYNC 4A system works well. I did have some issues with my Apple CarPlay either disconnecting or not being recognized, but a system reset fixed that issue.
Hit – Unbelievable Power
Once again, Ford did the Lightning right with its name because it is lightning quick. The base powerplant is a single motor 98 kWh electric setup, but if you're going to go with this truck, then get the dual motor. This 131 kWh extended range battery has 563 horsepower and 775 lb-ft of torque. That's enough to get it from 0-100 km/h in about 4.5 seconds. And you can feel the power whether going uphill, towing a trailer or merging onto the highway.
I put the Lightning in Sport Mode and man, does it ever fly. Even my kids were blown away at how quick it was because they definitely didn't expect such acceleration.
And this truck isn't just about driving on paved roads; nope, the Lightning comes with a 4×4 drivetrain as standard. For those venturing off-road, there are metal skid plates and underbody protection to shield the truck, and the battery, from rocks and debris.
A recent study showed that ever since the Ford Lightning began being sold, more owners ventured off-road as were expected. So, I guess more and more people are using the Lightning for a variety of activities.
Hit – Impressive Capacity
Whether talking about towing, payload, storage or range, the Ford F-150 Lightning does it all.
The Lightning can tow 10,000 pounds; that's a boat, trailer, camper and even more. And with Pro Trailer Hitch Assist, it's easy to attach any of these to the truck. There is also a myriad of other assist systems that help with maneuvering and driving.
Thanks to a durable frame and very strong components in the bed area, the Lightning has a payload capacity of 2,000 pounds. So, load up the 5.5-foot bed with whatever you need to haul and the Lightning handles it with ease.
And still speaking of capacity, the F-150 Lightning has a tonne of storage not only inside the truck, but somewhere not expected. Up front, under the hood, sits a pretty impressive 'frunk'. The frunk has about 14 cubic feet of space and can handle weight up to 400 pounds.
Finally, there's range, and these numbers will help with range anxiety. The standard battery has a range of about 370 km, which isn't too bad at all. Go for the extended range battery and now you can travel about 500 km. That's more than enough for anyone going from Vancouver to Kelowna with kilometers left over.
Hit – Intelligent Back Up Power
We first saw this feature in the Hyundai Ioniq 5 and the Lightning has it as well. A real neat feature of the Lightning is that it can act like a generator. Whether you're out camping and need to power an appliance or need to power your home during an outage, the Lightning has your back. In fact, a recent study showed that the Lightning, if fully charged, can power a home up to three days.
And for those using the Lightning as a work truck, it's easy to plug in power tools and get work done. I had the chance to power my pressure washer and it worked like a charm.
Hit – Lots of Extras
As I've stated before many times, the pick-up truck of today is no longer just a workhorse. It has now become a vehicle that can do all the work during the day, and yet still be stylish enough to take to a party in the evening. And that's so true with the Lightning.
The F-150 Lightning can be configured to full luxury, with options like full leather heated and cooled seats, massage seats, full zone lighting, 22" inch wheels and a twin-panel moonroof that makes the interior feel oh so spacious. Now, I've said this before, the F-150, in my opinion, isn't on par with the top-trim RAM 1500, but all things considered, it's still pretty darn nice.
A very useful and unique feature of the F-150's interior has to be the new workstation. With a simple click of a button, the gear shifter folds down, and you can use the center console as a workstation, or for me, a place to have a quick meal.
And of course, the Lightning has all the technology you'd expect, including Android Auto, Apple CarPlay, WIFI connectivity, a tonne of safety features, and let's not forget that massive 15" touchscreen.
Miss – Price Tag
Let's be honest here. We know that the price of cars has increased significantly over the past few years. And pick-up trucks even more so, since they are now a both a workhorse and a family vehicle.
The Lightning XLT starts at a reasonable $79,000 with the standard battery. So, it's not too bad; however, that being said, once you add on some options, the price goes up significantly. Our test Lariat had a base price of $80,000. Add on the dual-motor extended range battery and the tow package, and the sticker price was $99,000! And we didn't even have options like massage seats or the twin-panel moonroof. To give a perspective, the Platinum trim starts at $121,000.
Miss – Only One Cab Configuration
This may not be a big deal to most as, unless you are a fleet, most people do buy the crew cab. The F-150 Lightning can only be bought as a 4×4 SuperCrew and the 5.5-foot bed. Once again, this isn't a big deal and I'm sure more cab/bed configurations will be available later; but for now, it's all they have.
Miss – Interior Slightly Lacklustre
When we talk about a starting price of $80,000 you expect a certain level of comfort creatures and materials to match that amount. Yes, agreed that this is an electric vehicle, but for that price, you wouldn't expect vinyl seats or hard plastics. I'd expect a little better. Even the Lariat trim had the rubber/plastic on some panels that just felt cheap. Maybe I'm being overcritical here, but it's a lot of coin for what could be better.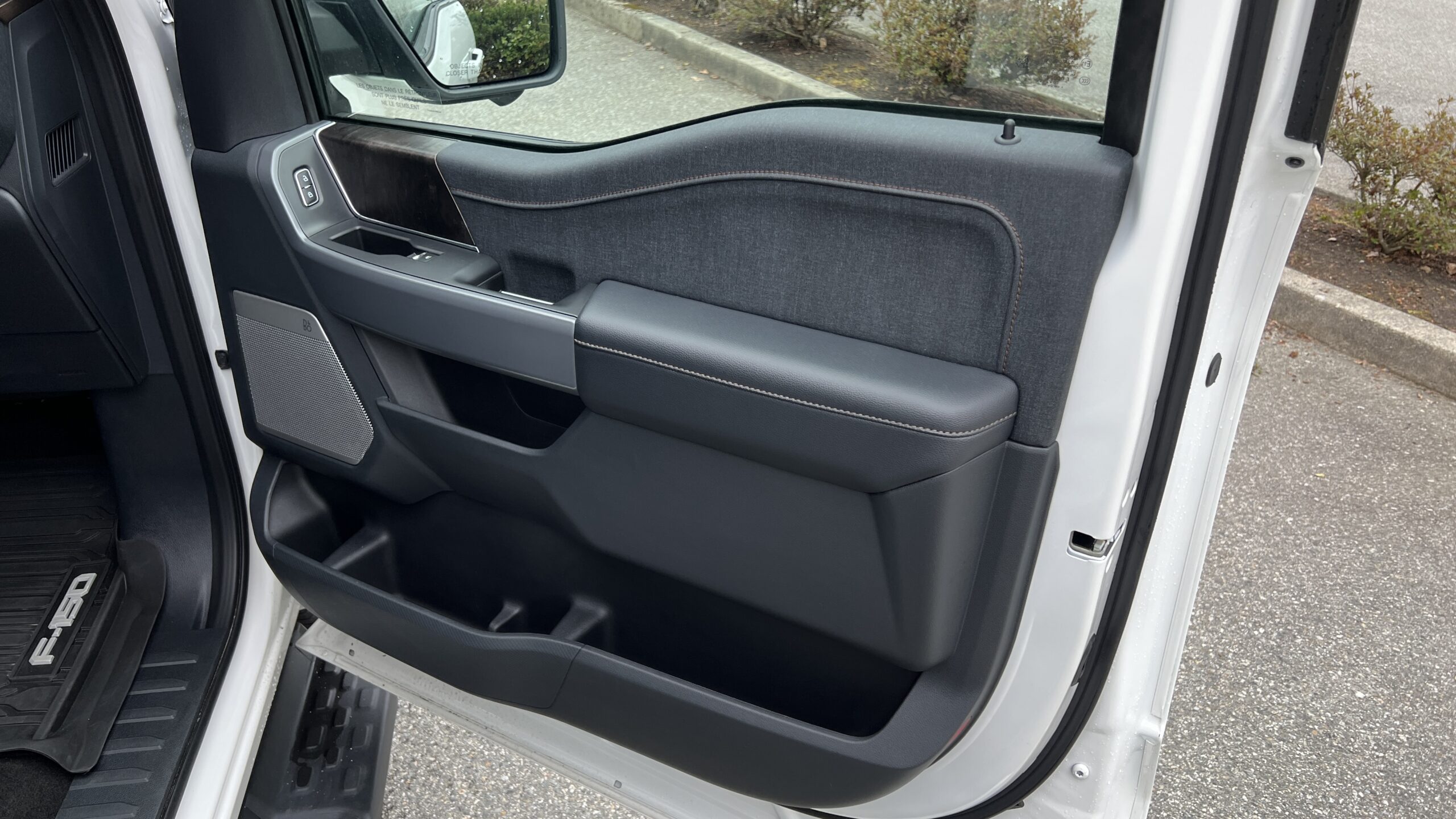 The Take-Away
The Ford F-150 Lightning is the first electric pick-up and from what the numbers show, it's certainly selling well. It has a couple of minor misgivings, but honestly, they wouldn't stop me from buying one. My choice of trim would definitely be the Lariat as I think it's a sweet spot. I'm curious to see how trucks from other manufacturers will be, but for now, sign me up for the Lightning.