Can it beat the Ioniq 5?
Genesis is the premium brand of the Hyundai group. The brand positions to compete with BMW, Audi, Mercedes as well as the Japanese premium brands such as Lexus and Acura. GV60 is the brand's first full electric compact SUV with a range of about 400km on a full charge. Carrying a price tag of $71,000 CAD, is the GV60 worth the premium price over the siblings of Ioniq 5 and Kia EV6?
Let's start with a round of applause to Hyundai and its sister company Kia for releasing impressive products one after another. GV60, Ioniq 5, EV6, Kona Electric, Ioniq 6 are just some of the full electric models that Hyundai and its sister brands offer, there's also plenty of Plug-in hybrid models that Hyundai offers. These car models might be very different from looks to interior design, but the one thing they have in common is they all have a pretty long wait list, so if you're seriously considering getting one, you should put your name on a few wait lists and hope for the best.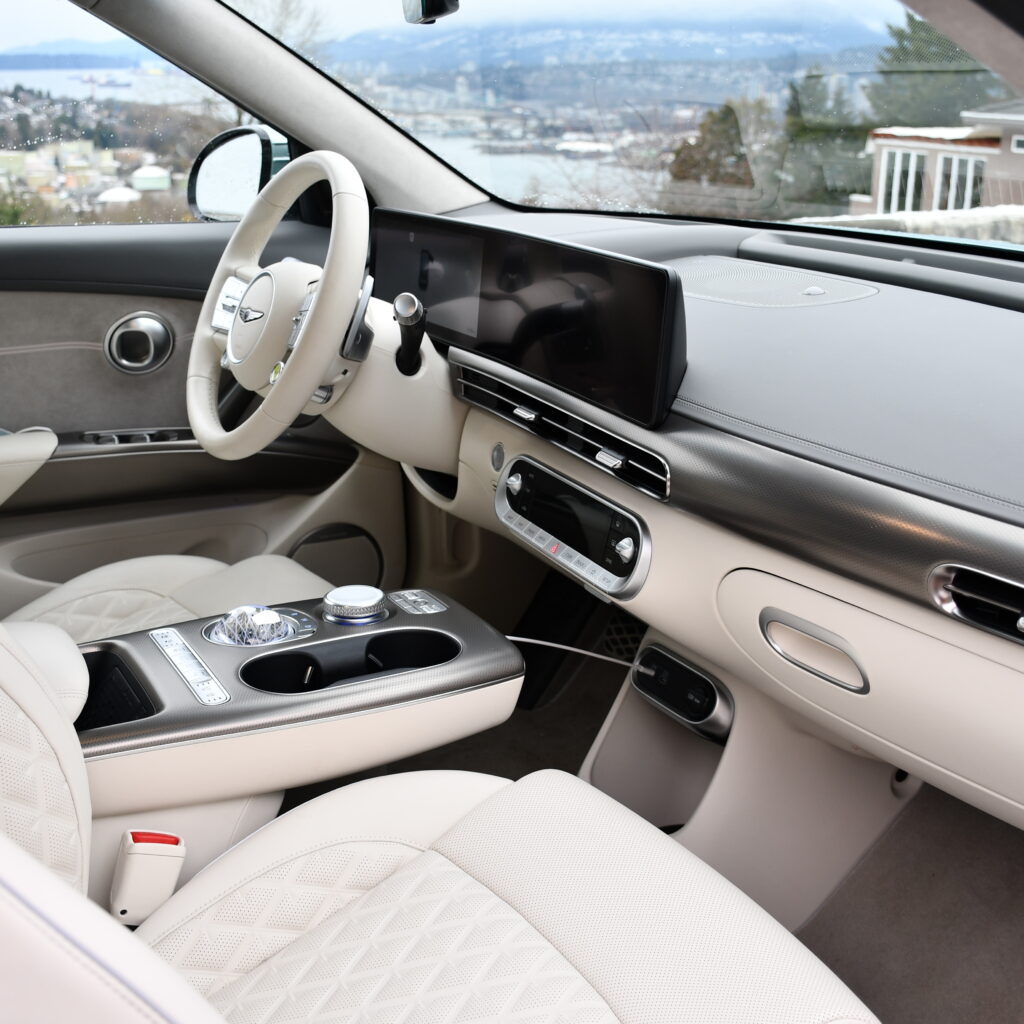 Performance
Genesis GV60 competes in the compact SUV category. It's Genesis' first vehicle to use the dedicated EV platform called E-GMP. GV60 has 314hp and 446l-ft of torque which is almost identical to Hyundai Ioniq 5 with dual motor, but upon testing both vehicles, I prefer the driving dynamics of GV60 over than the Ioniq 5. GV60 has a sportier handling; it leans less and the suspension is tuned for sporty handling. The Ioniq 5 has a softer suspension and it doesn't like to be rushed. Even though its acceleration is fast (0-100km in about 5 seconds), the Ioniq 5 doesn't hug the corners as confidence-inspiring as the GV60. Ioniq 5 also has more prominent body roll that can be felt in the rear seats. Furthermore, GV60 offers a 10second boost that maximizes the electric power for 10 seconds. It felt very fast during the 10 seconds; it's something that's not found in Ioniq 5.
Exterior and Interior
When it comes to the exterior, I think both the GV60 and the Ioniq 5 look cool and contemporary. GV60 looks very sporty and stylish while Ioniq 5 has a boxier and a more retro look. Both have distinctive looks but I prefer the sporty appearance of GV60. The interior of the GV60 is upscale and well-thought out. My tester came with white interior with chrome and metallic accents. When the vehicle is not on, the gear shifter shows up as a crystal sphere that rotates. The interior of Ioniq 5 is spacious and contemporary but not as fancy or upscale as GV60. Both vehicles offer loads of legroom and shoulder room. The trunk of Ioniq 5 is bigger than GV60. The luxury features of my GV60 tester include suede headline and door panels, electronically-controlled sunroof shade, as well as quilted napper leather seats that are very supportive and comfortable. GV60 definitely wins in the looks department.
Price
GV60 starts at $71,000, making it ineligible for rebates whereas Ioniq 5 is eligible for up to $9000 federal and provincial combined rebates (please check your province for provincial rebates). What puzzles me is other upscale EVs manage to have a start price just enough to qualify for rebates i.e.) Ford Mach-E and Tesla 3 and Y but GV60 fails to qualify for any rebates in Canada. I think Genesis should try to lower their MSRP for the base model in order to qualify for some rebates.
Given the big price difference after rebates are considered, and the fact that Ioniq 5 is an excellent car, it's a little hard to say GV60 is a better buy over the Ioniq 5. Price and practicality wise, I think hands down the Ioniq 5 wins. However, if you're in love with GV60's appearance and interior design then go for it, you won't be disappointed.