"A Legend Refreshed and Revised"
The life of the proverbial sedan is very tenuous at this time.  With more and more manufacturers putting the final nail in the coffin of their sedan models, would-be car buyers would not be hesitant to look at a sedan to purchase.  However, when the sedan is the most awarded vehicle in the history of cars, 36 time 10 Best pick, 2022 AJAC Best Large Car – 66 total awards in all… then buyers need to reassess.
The 2022 Honda Accord being the 10th generation carries over its appearance from 2021.  In 2021 the model received a revised grille, redesigned wheels and LED headlights.  Under the hood, the Accord carries over 1.5L Turbo 4 and 2.0L Turbo 4 and a 2.0L Turbo 4 Hybrid.  The latter is the slick drivetrain in the car seen here.  The engines produce 192 hp at 5,500 rpm and 192 lb⋅ft at 1,600-5,000 rpm, 252 hp at 6,500 rpm and 273 lb⋅ft at 1,500-4,000 rpm and 212 hp (combined) 129 lb⋅ft at 3,500 rpm (engine) 232 lb⋅ft at 0-2,000 rpm (electric motor) respectively.  The 2.0L Turbo is a variant of the same engine used in the Honda Civic Type R, with a smaller turbo and slight modifications.  All of this power is mated to a CVT, 10-speed automatic or Hybrid-E Drive.  The Hybrid E-Drive system provides for a spirited drive with the assistance of 232 lb-ft available from 0 rpm.  It resembles that instant thrust feeling you get from a BEV.  The drive is super predictable and the steering responds to inputs in an exact way.  The suspension is tuned in a way that provides a great balance between a canyon carver and cruiser.
Step into the cabin of the Accord and you are greeted by a purpose-built interior.  Layouts of controls are purposeful in a way that only Honda can.  The Touring comes with a full host of creature comforts like heated and cooled leather front seats, heated rear seats, and a head-up display.  Seats are designed to provide good support and for you to be able to gobble up hundreds of kilometres with ease.  The occupant room is ample with the Accord offering nearly the best in class rear space.  Cargo space is ample and class-leading with nearly 482 litres of space with no space lost in Hybrid trim.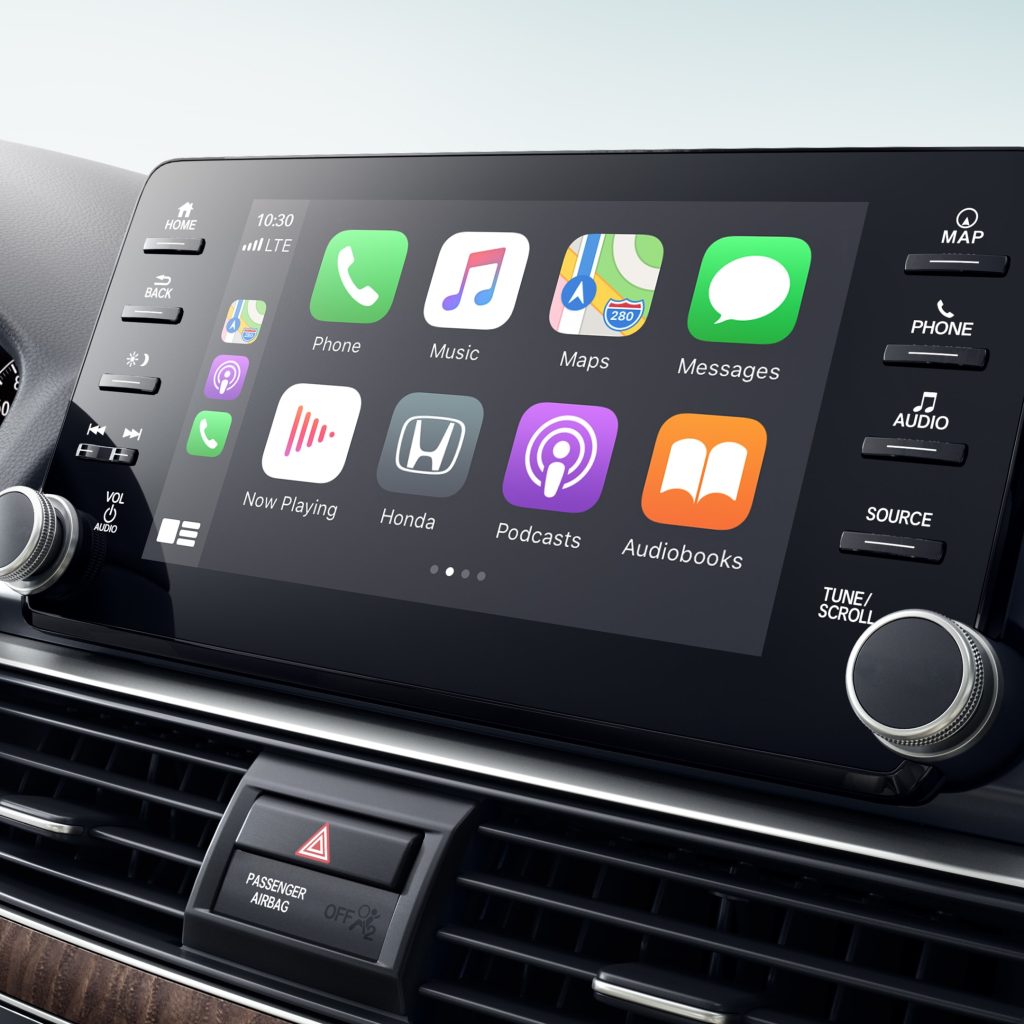 The Touring offers occupants with a 450-watt 10-speaker audio system with a subwoofer. This is accompanied by an 8.0 inch display that offers wireless Apple CarPlay and Android Auto, USB and Bluetooth connectivity.  The system has been greatly improved over previous systems that felt slow and archaic and you will find the most technically inept of us can use the system with ease.
To keep occupants safe the Accord, across all trim levels, provides an array of standard driver-assistance features including crash mitigation.  This includes features like emergency braking and lane-keep assist. Certain features do not make it across all trim levels, such as blind spot monitoring and parking sensors.  Key standard safety features include automated emergency braking, lane-keep assist, and adaptive cruise control.
The accord has been the mainstay vehicle for Honda for decades.  It has consistently beaten the odds and trends in the automotive industry by providing a stable platform that has been tweaked and massaged over the years to remain relevant.  But all throughout these changes it has offered car buyers and owners a reliable and enjoyable vehicle to drive day in and day out.  It does not over or underwhelm you but ensures you are never unsatisfied by your choice of vehicle.  This is what will continue to regale the Accord with awards into the future.