By: Jag Dhatt
Today's market is being flooded with more and more vehicles in the compact segment. I mean, when there's only going to be one or two people in the car, a compact is the best option. And since the price of fuel is continuing to rise, a compact also doesn't dig too deep in your pocket.
If you're in the market for a compact luxury vehicle, give the C300 4Matic a serious look. While it retains the traditional look and feel of previous generations, there are some key upgrades that will appeal to many buyers.
Exterior:
Even though the 2022 is completely redesigned, it's still resembles previous models. The shoulder line is less accentuated, giving a sleeker appearance. Up front, the classic 3-star adorns the front grille. At the back is a gripe that most won't even notice; even though the exhaust tips look beautiful, that's all they are. The actual exhausts are placed under and below the rear bumper. Not sure of why Mercedes didn't just put the pipes in the exhaust portals?
The 2022 model year is 2.5 inches longer than the outgoing model. Even though 2.5 inches may not seem like much, the cabin does feel roomier, whether in the front or rear seats.
Let's mention the wheels: Mercedes needs to change the wheels! I love 5-spoke wheels. But Mercedes has had the same design for years and years and they need to become slightly more contemporary.
Overall, the Mercedes C300 is a beautifully designed vehicle that will appeal to a wide category of buyers.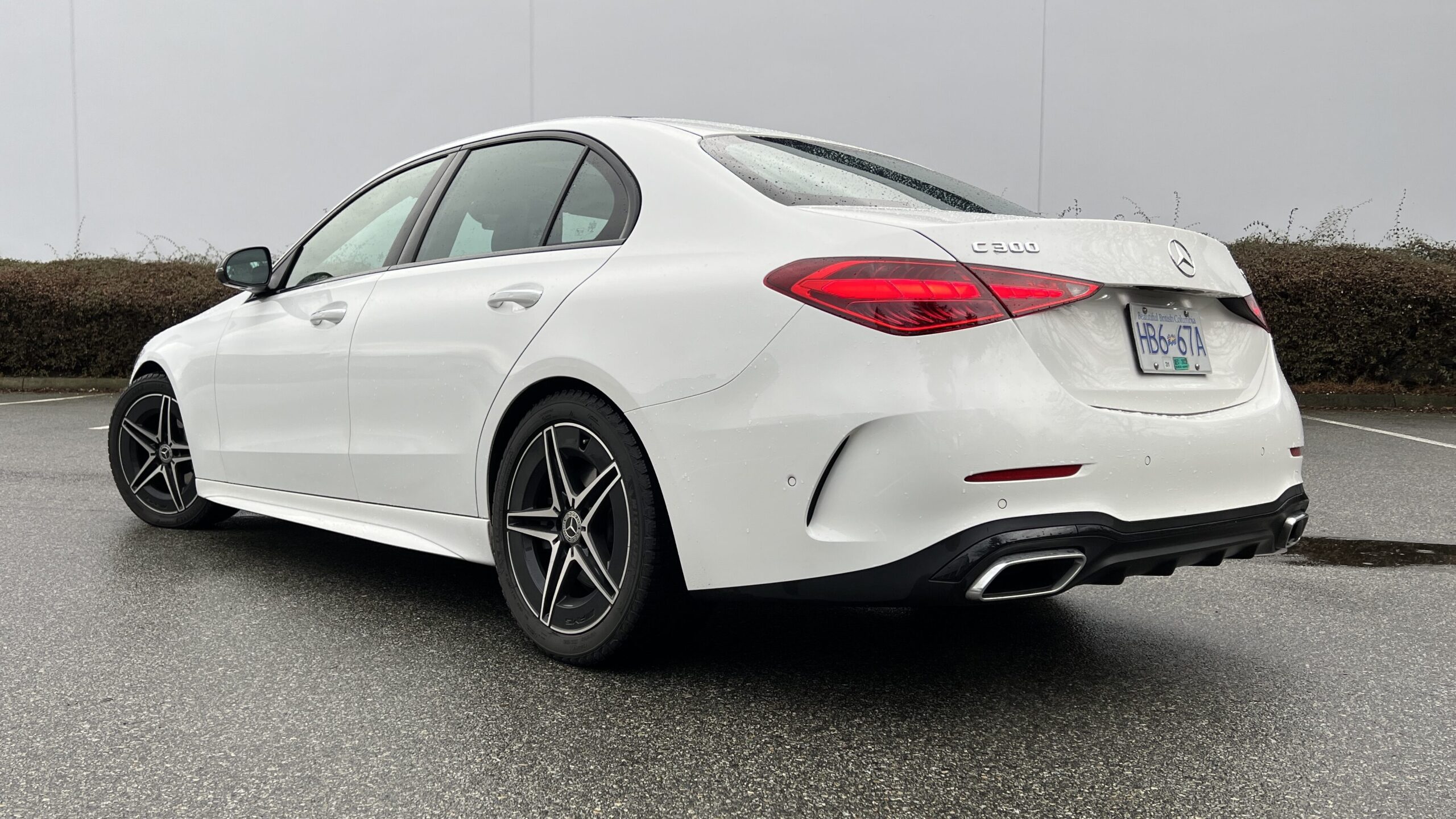 Interior:
Mercedes interiors have always nice; the 2022 model just upped it even more, so much more that you may just think, "Is this a baby S-class?" And if that's the comparison to make, it's an accurate one.
Mercedes seats are solid: they are comfortable and supportive at the same time. When taking sharp corners or tackling winding roads, they keep you firmly planted. The leather isn't supple per se, but is very soft and even on hot days, won't annoy your skin.
The vents are circular and can be moved to almost any position so that you have just the right amount of ventilation coming towards you. I think the turbine vents may have been a better look, but these are close enough.
The biggest attraction of the interior has to be massive 11.9" vertical touchscreen in the center of the dash. It's borrowed directly from the S-class and it controls all aspects of the car; compared to other competitors in this market, this sharp display wins by a wide margin. There were a couple of times that my phone, especially when using Apple CarPlay, wouldn't either connect properly, or would get disconnected, something that I've found happens in other brands as well.
I'm a sucker for interior mood lighting and the new C300 has a tonne of colours to choose from. When sitting in the evening or night, it's like a champagne room in the C300.
While the entire world moves towards voice activated commands and haptic touch controls, there are those of us who still crave the hard buttons and knobs. Now, Mercedes does have some hard buttons for some of the controls; however, the controls on the steering wheel are all touch sensitive. A number of times, I found myself hitting these buttons by mistake. Mercedes voice activation, by saying "Hey Mercedes" does work quite well. I even tried doing some of the voice commands by using my Indian accent, and they still were recognized.
One aspect that was changed that I didn't like was the heated steering wheel; it's now connected to the heated seats. So, if you want to just have steering heat on by itself, it's not possible unless the seat heat is on as well. Puzzling why they would do this.
Power/Engine:
The C300 will only get a 4-cylinder option for Canada. But don't fret; it's actually a pretty darn good powerplant considering the market it's aimed at. What's more is that Mercedes is adding a mild hybrid to this car; something we've seen in their other models. The 48-volt mild hybrid system boosts power and torque electrically, putting out a very respectable 255 HP and 295 lb-ft of torque. And trust me – when you punch it, this C300 moves.
The C300's powerplant is mated to a 9-speed automatic transmission that supplies power to all four wheels. And yes again, for Canada, the 4Matic is the only option. I had the C300 during some snowy weather and I can state that it handled all driving conditions like a boss. I felt completely in control and had ample traction on snow and ice-covered roads. Granted, this test vehicle did come equipped with snow tires, something that most car owners should get during the winter months.
The Drive:
A few years ago, more and more compact cars, including luxury brands, chose to opt for a stiffer suspension. Although this setup may appeal to some driving enthusiasts, I was one who missed the comfortable ride, especially in a luxury car. Well, thankfully, this C300 has a softer suspension setup, especially on the front. No longer is your coffee or tea splashing all over when you go over a speed bump. Now, the ride is comfortable, like it should be. I guess Mercedes decided it was more important to appeal the masses, who appreciate a softer ride.
The C300 will become one of your favourite vehicles as a daily driver. This car is just so comfortable and if you're cruising at highway speeds, it is truly amazing. The seats are comfortable and again, driving in this car for a few hours will not be exhausting on your body.
Steering, also, is comfortable. I thought it would be soft, but it's slightly stiffer and gives the vehicle a sportier feel.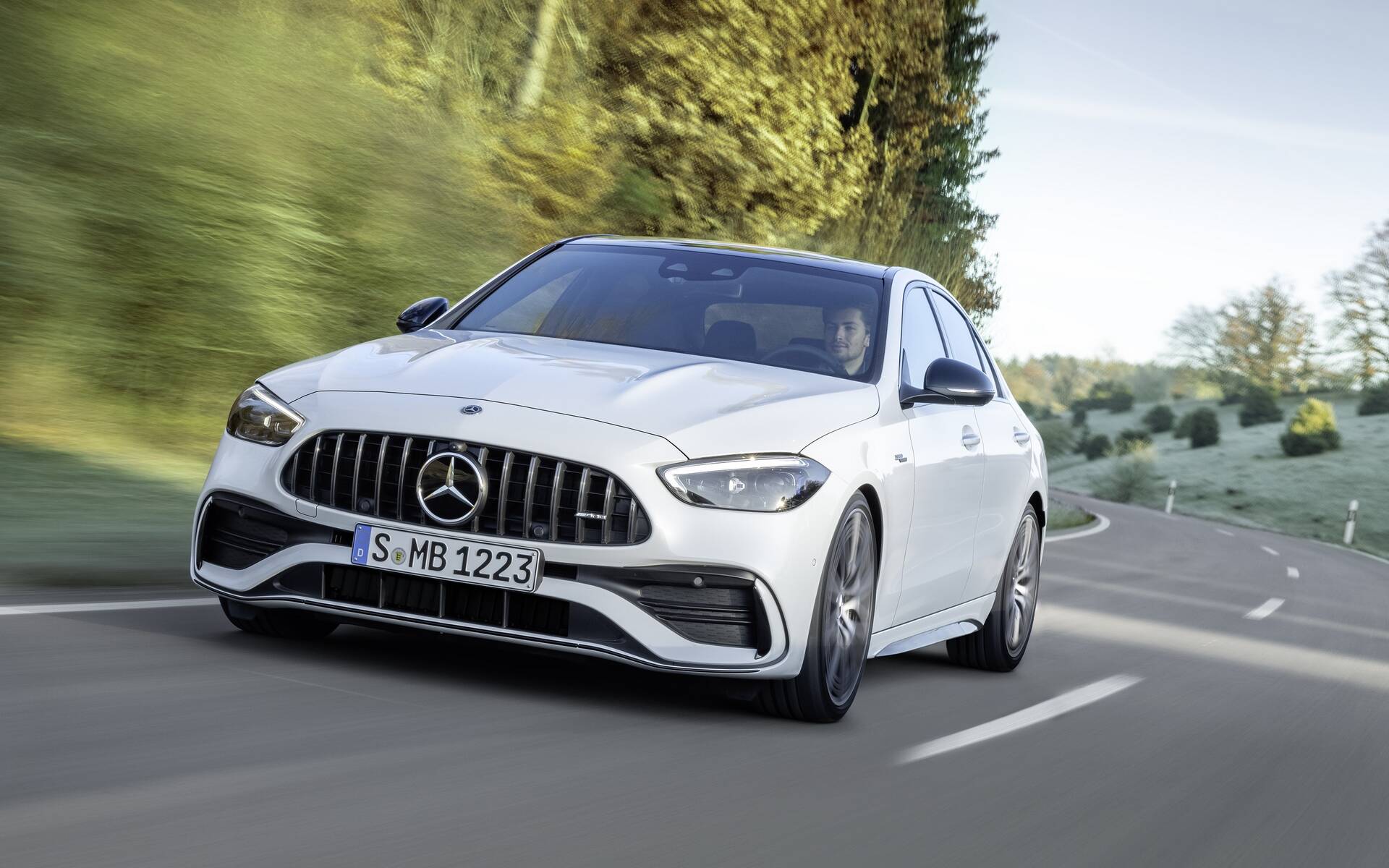 Mercedes does offer 5 driving modes in this vehicle: Eco, Comfort, Sport, Sport+, and Individual. So, depending on your driving style or need, there is an option. For me, Comfort worked well for about 80% of the time.
As I alluded to before, just because this Benz is now a four-cylinder only, it doesn't mean it's slow by any means. Whether is Comfort or the more sportier modes, the not-so baby Benz moves. I say not-so baby because previously, the C-class was the smallest in their fleet; now, however, there are even smaller ones, making the C-class the middle child in a way.
Final Thoughts:
Mercedes-Benz vehicles have been associated with success for decades. It went without saying that most of these buyers were middle aged. Times are changing and now younger people are driving a Benz.
The 2022 C300 is no longer the baby of the family. It's a fine automobile that has grown in size and room and will appeal to a lot of buyers. It has a comfortable beautiful ride, and even with the four-cylinder engine, it's got a lot of punch.
Yes, the touch sensitive controls on the steering wheel are a nuisance, but definitely not deal breakers. I would definitely enjoy the C300 as my daily driver.