2023 Mazda 3 Sport
Price: $39,549 CAD
Colour: Polymetal Grey Metallic
I wrote about the current generation of the Mazda 3 Sport AWD with the turbo engine a couple of years ago and I hailed it at the time as a nearly perfect vehicle. It ticked all the boxes. It drove like a go-kart, looked deadly and tickled me as only a great car can. The 2023 Mazda 3 Sport is effectively identical to its older cousin but in the harsh light of the breakneck pace of vehicle evolution the 3 doesn't stack up as strongly as it once did. The amount, type and sophistication of the tech being packed into even entry-level cars has never been higher and the 3, having no updates since 2019, looks like it's standing still in comparison.
Power & Performance
Fortunately, the 2.5L Turbo charged engine is still the electric stinger it has always been. It gives you 250hp and a truly savage 320lb/ft of torque. This small car loves to be throttled and responds with joy every time. There is always a case to be made for more power but the 3 makes its own case for the balance between power, torque and stability (provided by the AWD and fabulous suspension system). The 3 is a fabulous drive and a wonderful witches brew of engineering that delivers a truly great driving car.
In my review of the 2021 3 Sport, I said the vehicle was nearly perfect save for the fact that you couldn't get a manual transmission mated to that wonderful engine and AWD system. While I stand by that position, time has forced me to acknowledge that while I would be the first to order a 3 Sport with the 2.5L Turbo engine, I'm a very small minority of car buyers. The death of the manual has been lamented in the automotive press for years now and I've certainly said my piece. The reality though is that carmakers are merely shameless sycophants. They will make us whatever we are willing to buy. As a culture, we have made it clear to the automakers that we don't want manuals. At the very least, we don't want enough of them to justify a whole new transmission setup which costs lots of money and Mazda, among most of the others, knows they won't get it back. Reap what we sow.
Exterior
Yet another upside that has continued with the 2023 Mazda 3 Sport is the looks of the car. It's a very handsome animal. It's low (but not so low as to be a pain during daily driving), squat and aggressive looking. I love a hot looking hatchback and the 3 is not only one of the few options available, but a great example of what that type of vehicle should be. It was a curious looking thing when it debuted nearly 20 years ago, and Mazda has continued to improve its looks and the current generation is a triumph.
Interior
The 2023 Mazda 3 Sport comes with leather, red in the case of this test vehicle, which is made from a remarkably high-quality leather. They not only put it under your rear end but splash some on the dash and doors as well. It's used to great effect in this vehicle, and I heavily approve.
The 3 comes with very comfortable seats. Regardless of your upholstery choices they cup you gently and hold you in place. Given how you can really rag on the 3 should you see fit, this is a huge benefit. The padding is firm but comfortable and the bolsters are well designed to hold you in your seat. You get the best aspects of a racing seat without having to endure the horrible discomfort.
The interior of the 3 is a tight space. This isn't a blatant criticism as I like a cocoon like vehicle interior. I'm by no means a small man and I still fit inside the 3, front seat and back, with relative ease. If you are taller than my 5'8" of height, you might run into trouble. The back seats will, in particular, challenge anyone north of 6' with a similar sized person driving up front. It gets snug back there for full-sized adults. Kids will have no issues aside from the fact that there are no charging ports to keep their attention where it should be – on anything/one but myself.
Speaking of power, we must talk about the limited power options in the 3. You'll recall I mentioned earlier on that new cars just have more and more of everything. The 3 does not. It has 2 USB ports (the old ones no less) and a 12 volt in the center console – and that's it. Granted you might be able to power everything from the center console if you had to, it would have been nice to see a few ports within easy access of the back seats. An upgrade to USB-C technology is also needed because that's the future and there's no putting that genie back in the bottle.
Infotainment systems continue to grow in everything from size to sophistication. You can get screens that are absolutely enormous in some vehicles. Some of those said screens are ludicrously large and unnecessary. That being said, the screen in the 3 is 8.8" wide. I have had phones that are about that size. It's tiny. It's also set quite far away, kind of buried in the dash. Sometimes, I found it a little hard to see. The screen also lacks touch capability. I couldn't reach it anyway, but not everyone is hobbled with my stubby arms. That being said I was still taken aback by the fact that the screen is still only controlled by the big dial on the console. It works well enough, but it instantly dates the system. Another thing that reminds you of the fact that you are looking at some older tech is the fact that while CarPlay and Android Auto are available with this system, they are wired only. No wireless. This wounds me. Wireless CarPlay is a little like heroine in the sense that once I got my first taste, I wanted more. MORE!!! This certainly isn't the only vehicle that has wire-only CarPlay… but that's no excuse. Come on Mazda! Mid-cycle refresh time!
Another thing I can't do without is wireless charging. In any car that shares the 3's price point, it must be standard equipment. Incredibly, you can't order it on the 3. There's space in the dash, I've confirmed this, but the system still isn't there. Please!!! We want it. Give it to us!
I was left in a bit of a quandary when it came to the interior of the Mazda 3. It's a comfortable and good-looking space but there are key details here that really do show the cracks in the foundation of this car. It needs updating because the four years since this model was introduced is a lifetime to go without any updates.
Quality
The Mazda 3 is a very well-made car. It feels solid and rather like a lump of granite. I've always had great faith in Mazda build quality and the high level of fit and finish as well as interior trim choices of this vehicle only reinforce that belief.
CQI – 8. For an entry level vehicle, it has top shelf carpet.
Value
I may have come off a little harsh on the 3 given how outdated it's become in certain key areas. I don't want that to take away from the fact that the 3 offers a lot of benefits against its competitors. It's fast, refined and very good looking. Cars like the Honda Civic Si or Sport trim or the Elantra N (I know, not a hatchback but they are hard to find) are strong competitors and both offer a manual option. Big hangup with both these cars though is that neither offers AWD. Many things to consider.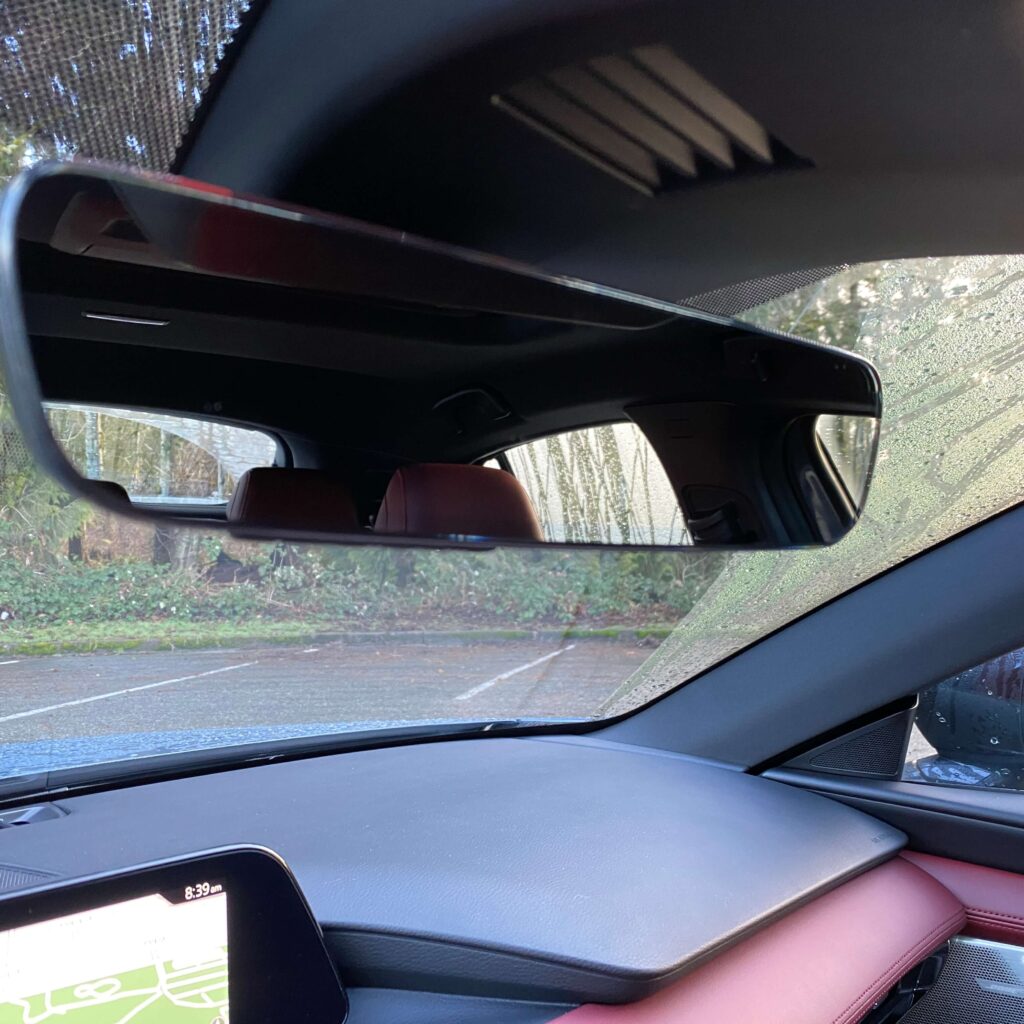 Final Thoughts
The 2023 Mazda 3 Sport is as great a driving machine as I remember. It's also still near the top of the list of small cars when it comes to looks. The technological shortcomings are frustrating and could easily be fixed with a light refresh although that doesn't seem to be coming. I'm sure I would learn to live with the limitations of the included tech in the 3 and a smile would still cross my face every time I put my foot down and plowed it through a corner.