For those who know me know that I am biased towards the Range Rovers. It's because of everything that comes with the name: status, eye candy, luxury, and of course, its capabilities. Some will argue that there are others in the same category and I agree completely; however, personally speaking, this brand does set itself apart and for good reason. And the Range Rover First Edition just sweeps you away from the very first glance.
Exterior:
The Range Rover is anything but beautiful. This granddaddy Range Rover is an absolute stunner. The lines are so clean and crisp. There are minor changes made year to year; however, the beauty of the vehicle remains the same. Just like the Mercedes G-Wagen, Range Rover doesn't make drastic changes to this vehicle, well, because…. they don't need to. The bloodlines of this vehicle are very clear.
A signature feature of the Range Rover for many years has been the split tailgate. It's a wonderful bit of design and while we don't need it, I would rather have it. On any day, find a spot, grab your choice of drink, pop open the rear tailgate, sit on it and enjoy the moment. It's these moments that count.
Interior:
The interior of the Range Rover is where the magic really happens. I'll start with the leather; it is exquisite. Soft, supple and delicious. It's also everywhere. Leather seats of course, centre console, the dash and even the headliner is leather. It may sound like overload but the way it's applied in the Range Rover feels absolutely right.
The Range Rover also comes with the nicest carpet I've ever see in any vehicle. It's thick, robust, soft and so comfortable it makes my desire to sleep in the back a real possibility.
Massaging seats are a must at this level of vehicle and the Range comes fully equipped. Getting a heated massage on a seat with such soft and wonderful leather gives one the impression they're at a retreat in the best of spas.
As many of you know, I love me a good sound system. The 2022 Range Rover First Edition comes equipped with a Meridian Signature Sound System that delivers; it's not on par with the Bang & Olufsen but still is good enough for most. It is crisp and clear and can be heard on the moon if you really dial it up.
Everything else of the interior is top-notch. Basically speaking, it's pure opulence on all accounts. Period.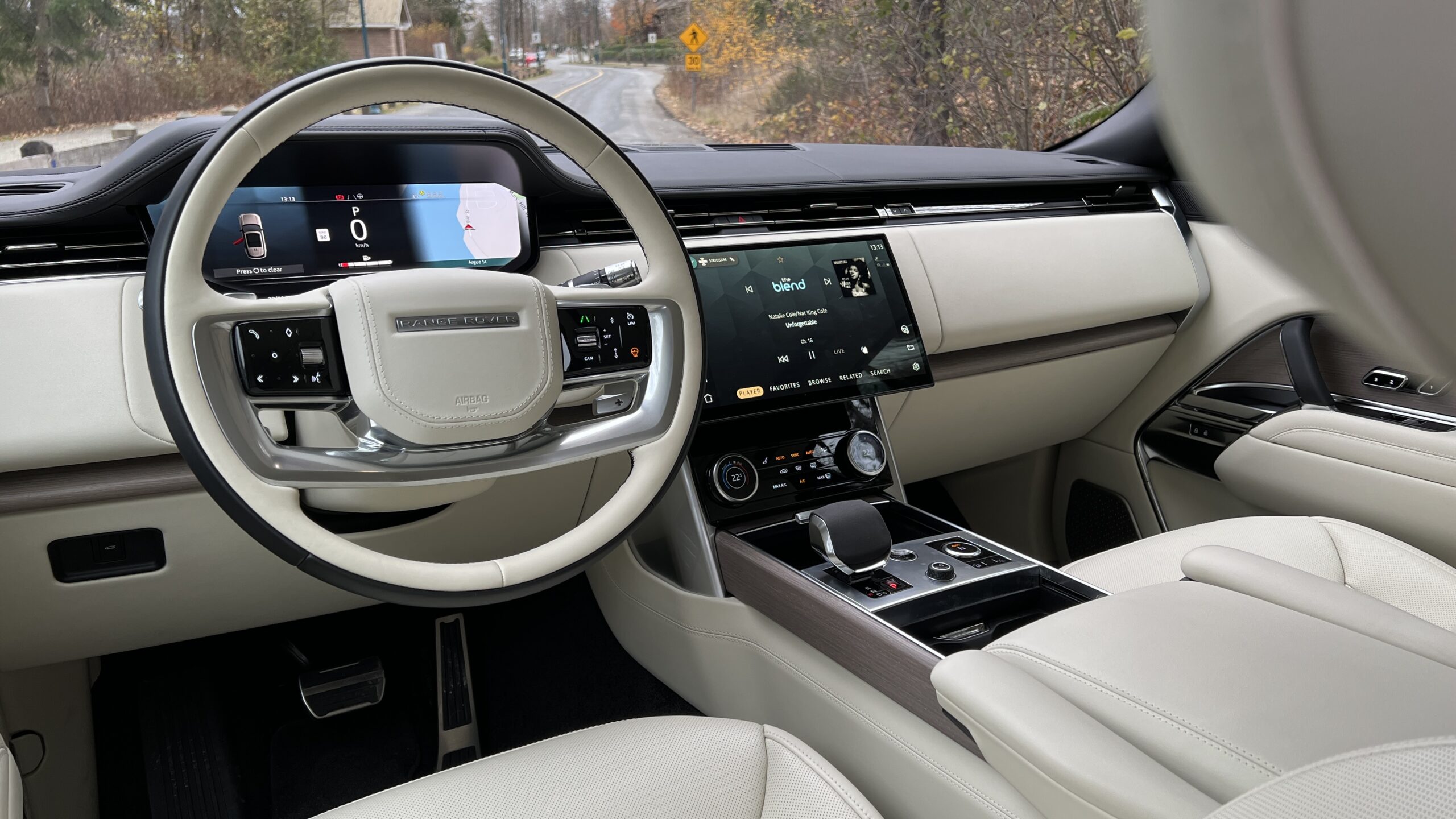 Power and Performance:
The 2022 Range Rover First Edition comes with a 4.4L twin turbo V8 engine that puts out a very respectable 523HP and 553 lb-ft of torque. This powerplant is a good match as this beast tips the scale at almost 6000 pounds. This strange combination of speed and weight really typifies what the Range Rover is all about. It's not built for all out speed but can push your stomach against the seat when required. The rest of the time it is content to cruise with ease as it takes you effortlessly to your destination.
For a sizeable land yacht, the Range Rover has an incredible turning radius. Usually, vehicles this size need to utilize multi-point turns on a pretty regular basis; but this thing can turn on a dime thanks to its all-wheel steering technology. At lower speeds, the rear wheels turn in the opposite direction to the fronts by 7.3 degrees. At higher speeds, the rears turn in the same direction as the fronts. And trust me, this is handy when parking or getting around in tight areas.
Should we talk about fuel economy? Well, when your vehicle costs nearly $200K, the buyer isn't really concerned about it. That being said, this behemoth averaged around 23L/100 km. Considering the price of gas in BC today, it's a considerable cost. The Range Rover, with the 4.4L twin turbo likes to drink fuel like an alcoholic does whiskey. Even with Start/Stop technology, be prepared to gas up often. However, I'd like to add that if you have the spare change, opt for the Plug-In Hybrid option; this variant gives around 85km of range on electric. That's probably more than enough for the average daily commute.
The Drive:
Driving the full-size Range Rover First Edition is a unique experience. You feel like royalty and from anyone looking in, you are. Granted the First Edition, to most, isn't easily recognizable but you know you are driving it.
In the city or the open roads, the Range Rover First Edition drives like you'd expect. It's quiet, nimble for a vehicle of its size, and most important, agile. Most would think driving this big boy would be difficult, but it's far from truth.
Everything about its drive is an experience. You really just need to do it to experience it.
Value:
The 2022 Range Rover costs nearly CDN $200,000. That's quite a bit. That being said, it is in line with its competitors, namely the Mercedes GLS, G-Wagen, the BMW X7 or even the Cadillac Escalade V. The Cadillac gives you more seats, more power and will give the Range Rover's V8 a run for its money. Clearly, if you are in the market for a car in this price range, there is stiff competition.
Final Thoughts:
The 2022 Range Rover First Edition comes close to perfection, it really does. If you disregard the fuel economy and some over-use of plastic on the inside, there is little to criticize. It's beautiful, elegant, refined, sophisticated and made me feel like royalty while driving it. I mean if it's good enough for the British monarchy, it's good enough for me.