2023 Chevrolet Bolt EUV Premier
Price: $51,967 CAD
Colour: Bright Blue Metallic
As a high school student, I spent most of my time cruising around in my friends cars because I grew up poor and didn't have one of my own. The three most common of those cars were the Toyota Corolla, Honda Civic and the Chevy Cavalier. These were the vehicles of the parents of my friends and they made a mark on my impressionable young mind. There was a capable utility to these cars. They weren't sports cars or anything, but I came to respect their ability to get you to where you needed to go. The recent EV evolution has led to a nearly instantaneous horsepower race to the extent that most new EV's sport huge amounts of power and post very impressive 0-60 times. Curiously this leaves me asking "where are the Corollas and Cavaliers of the EV world?". Allow me to introduce the 2023 Chevrolet Bolt EUV. This is an ordinary, everyday car that clearly draws its inspiration from the subcompact classics of my youth. Here we have an everyday EV.
Power & Performance
The Chevrolet Bolt EUV will deliver 200hp and 266lb/ft of torque. That's electric torque remember, the good stuff. That's far more power and torque than my best friends Chevy Cavalier we drove as kids, which operated largely on the hopes and dreams of his would-be mechanic father to keep it running. Given the humble aspirations of the Bolt, those are respectable figures. The Bolt is designed as a city commuter car. It doesn't need a ridiculous amount of horsepower or even AWD. This makes the car affordable and a real option for normal people who can't afford the 6 figure glitter boxes we've become accustomed to during the EV evolution. Sporting a 0-60mph time of 7 seconds you can still put your foot down and get a little thrill when the urge should strike. Not like that Cavalier that wheezed like a 90 year old asthmatic when you pinned it, emitted a death rattle and went no faster.
My plan was to charge the battery to full, drive it in normal everyday commuting situations all day, and complete a real-world range test. Chevy tells us the Bolt will do (approximately) 397kms on a full charge. When I pulled up to the 50kwh DC fast charger and plugged it in the most it would give me was 13kwh. This was not a great start. I decided to try another fast charger I knew about and hoped was available but when I got there it was out of service, naturally. Unfortunately, my range test would have to wait. I did put several hundred kms on the vehicle throughout the day and it showed another 125 till the AA's were dead so it did seem to be roughly on point with the range estimate considering I started with a battery at 80%. This isn't the first time commercial charging options have failed me in my area and really drives home the necessity of having level 2 charging at your home. Chevy is covering the cost of a level 2 charge and install at the moment which is a big perk.
The DC fast charging rate on the Bolt is capped at 50kwh. This has drawn some criticism as being too slow. If you're planning to drive across the country in the Bolt, I can see your point. The Bolt however is not a vehicle designed for such purposes. It's a city car. It's for everyday commuting and, with suitable charging facilities at home, range isn't an issue. There are far better options for road trip EV's than this one.
I must touch on the one pedal drive system in the Bolt. It's not as aggressive as some other systems but it still gives you what you need to not really touch your standard brakes. It's also accessible by a button on the console which I like should you see the need to switch it off, such as when you're reversing into a parking spot. There is also a curious toggle behind the steering wheel that when you pull it toward you adds additional regenerative braking and really pulls the car to a halt.
Exterior
I like the look of the 2023 Bolt EUV. It's a little bulkier and bigger than the regular Bolt and they use the additional space well. It's still a small hatchback but is perfectly comfortable front and back. It's also an aesthetic improvement over the standard Bolt. It's a handsome little car and that's a good thing as Chevrolet has produced some curious looking mongrels in recent years. They made good choices with the Bolt. 
Interior
I've never been a big fan of GM interiors. They've made great strides in the last generation of vehicles from all their brands. That's been great to see. The interior of the Bolt EUV isn't perfect but it's better than I expected. The grey/blue motif of this tester certainly doesn't help but I'm certain you can fix that on order day.
What you do get is a decent amount of space. Both front and back seats give you what you need for tooling around town. Adults can easily fit in the back and, aside from the freakishly tall, won't be bumping their heads on the ceiling. Leg room is good as well. The extra space that comes with the EUV over the standard Bolt mostly went into the second row and they did good things with it. It's a comfortable place to be. The second row seats also come heated which is a nice perk for this level of vehicle. Aside from a few charging ports that's all you get in the back and that's really all you need. This is a budget car remember.
The cargo area is of sufficient size for daily activities. Another example of the number crunching that went into the design of this car is the cargo cover. It's a piece of fabric with some plastic supports suspended by string. It is hysterical. In its own way it kind of makes sense but it has the same properties as one of those collapsible laundry baskets you get from IKEA. That's not what I want in my car.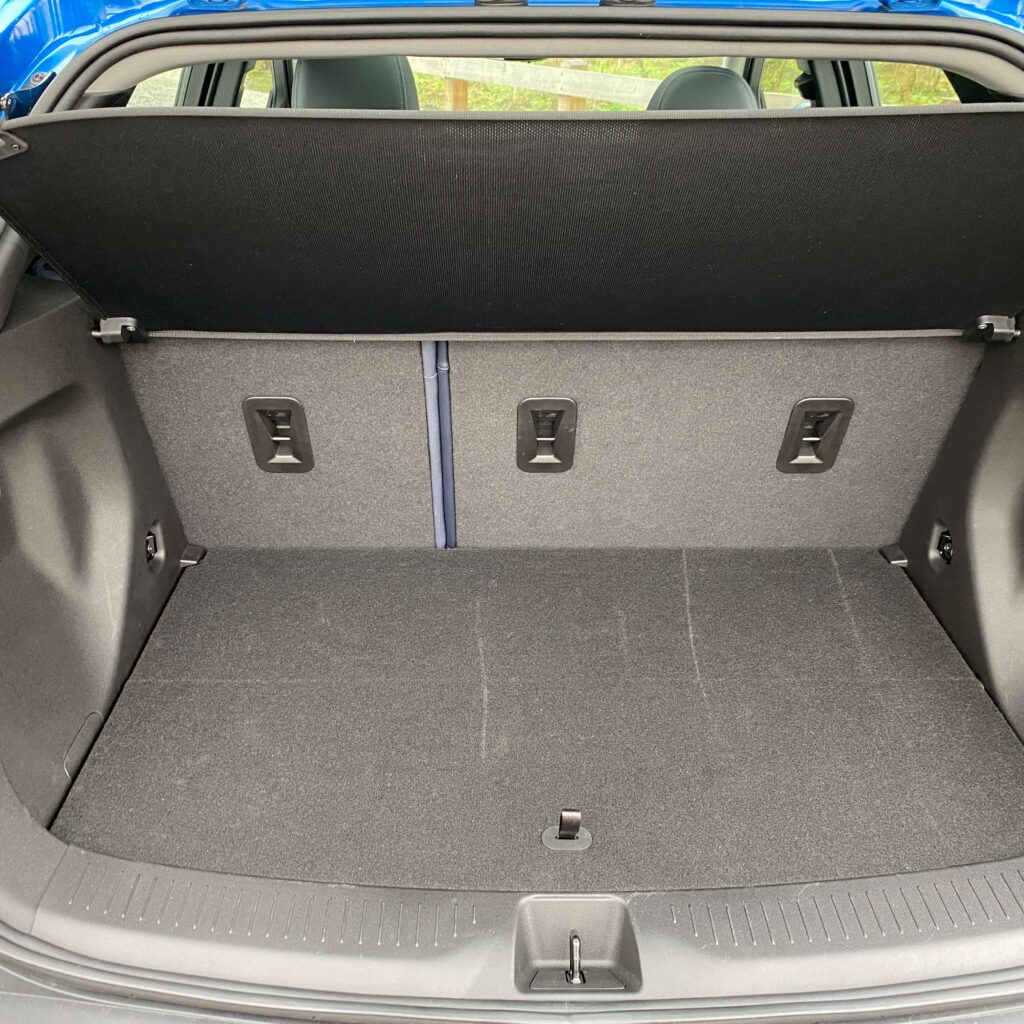 The GM head unit I've been raving about for many months is present here in the Bolt. It is still responsive and fabulous. Not sure why everyone can't get this right but GM sure does. See… I can be positive.
Quality
Build quality is important. Particularly when it comes to new types of vehicles like EV's. I encountered charging problems with the Bolt EUV I had on test. It wouldn't charge at the rates it should have and I tried multiple chargers with similar results. At the time of writing I'm waiting to hear back on the reasons for this. It could be something or nothing at all, but I feel compelled to mention it.
The build quality of the Bolt EUV is good. Aside from a few questionable materials and some suspiciously shiny leather, it feels like a well-made car. There were no squeaks or rattles and nothing fell off as I hooned around utilizing every on of those 200 horses.
CQI – 8.  The carpet in the Bolt EUV is pretty solid. I expected horrible Velcro carpet and was pleasantly surprised.
Value
The 2023 Bolt EUV isn't the only option for a full EV in this class of vehicle. Before purchasing you would need to drive the Hyundai Kona EV and the Kia Soul EV. The Kona won't have the headroom in the back but will have a nicer interior. I haven't driven the Soul so I will refrain from anything further. These are your three options for this type of vehicle in this class. It's a tight competition.
Final Thoughts
I'm generally impressed with the 2023 Chevrolet Bolt EUV. It continues the renaissance GM has been experiencing with its recent offerings. They are attempting to get out ahead of the affordable, everyday EV segment of the market and I think that's wise. Electric vehicles, wherever they get their juice from, are the future. As costs normalize and the transition from gas powered to electrical powered completes we're going to see more and more of these normal cars. Bring 'em on.