2023 Infiniti QX60 Autograph
Price: $69,995.00 CAD
Colour: Two Tone Moonbow (Seriously)
Infiniti is a curious car brand. They've been very quiet for a very long time. They haven't released anything exciting in a while. Not since the halcyon days of the G35 and G37 has Infiniti produced anything to get lips flapping and tongues wagging. The new 2023 QX60 isn't going to blow anyone's mind but it is something new from a brand that desperately needs a transfusion. Add to that the fact that the car is actually quite solid and now we have something to talk about.
Power & Performance
While the model may be new the 2023 QX60 holds onto something from the past in the form of it's 3.5L V6 engine. This thing has been around for decades but nevertheless it's still a good choice of powerplant. You get 295hp and 270lb/ft of torque mated to a brand new 9-speed automatic transmission that sends power to all four wheels through the standard across all trims All Wheel Drive system. The power isn't mind-bending but it's sufficient although I would have appreciated a little more torque where it counts. On balance though, it moves the QX60 very well.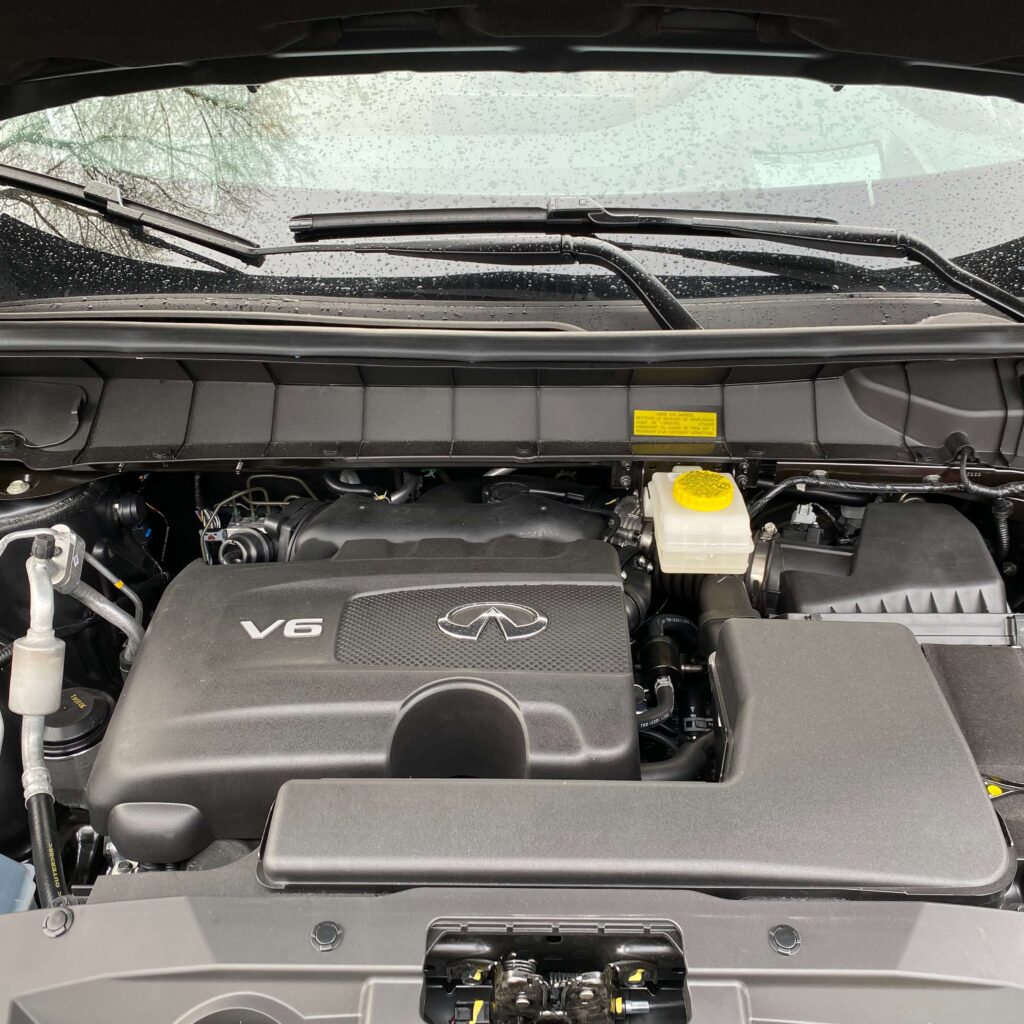 It must be noted there are no electrification options for the QX60. This puts it a step behind some of its competitors. I hope a PHEV variant is in the design funnel and on the way. Time will tell.
Exterior
The 2023 QX60 is a good-looking car. Nothing radical or ostentatious but just a handsome face and shape. Sometimes that's all we need. Previous generations weren't quite as lovely so if you're going to expend the effort on a new design, make it a good one. If you opt for the top shelf Autograph trim you get the two tone color option that has become all the rage these days. You can get creative with it and choose some nice options that really pop. Kind of worth the extra dough.
Interior
Oh the wonderful world of quilted leather. The QX60 hasn't escaped this fad and features quilted leather all over the seats as well as on the dash. It really does nothing for me and I like it when manufacturers choose another direction. It's become so ubiquitous you'd swear it was a federal mandate at this point. Despite the quilting the leather itself is soft and comfortable so all is not lost.
The HUD on the QX60 is a nice bit of equipment sometimes missing from cars in this category. I like being able to keep my eyes on the road and not scanning the dash for my speed not to mention the other bits of information the system provides.
The 12.3" Infotainment system on the QX60 is, sadly, standard Nissan. The screen resolution is fine but the cameras providing the images could use an upgrade. I'm not sure how Nissan/Infiniti justifies including the same tired old gear when competitors are miles ahead. Such a shame.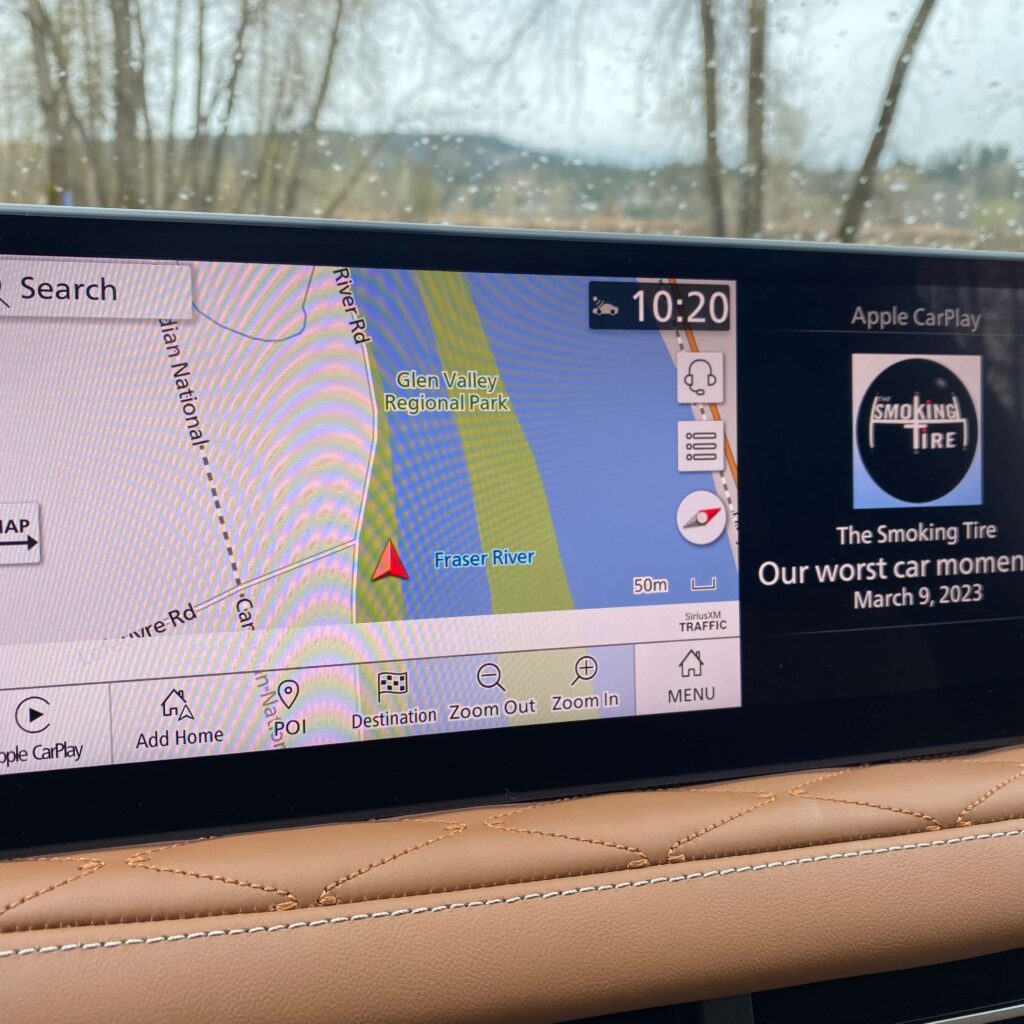 The QX60 comes with a wonderful panoramic roof and sunroof regardless of the trim level you choose. I love this as a choice. The cabin is bright and open because of its inclusion and greatly improves the ride experience.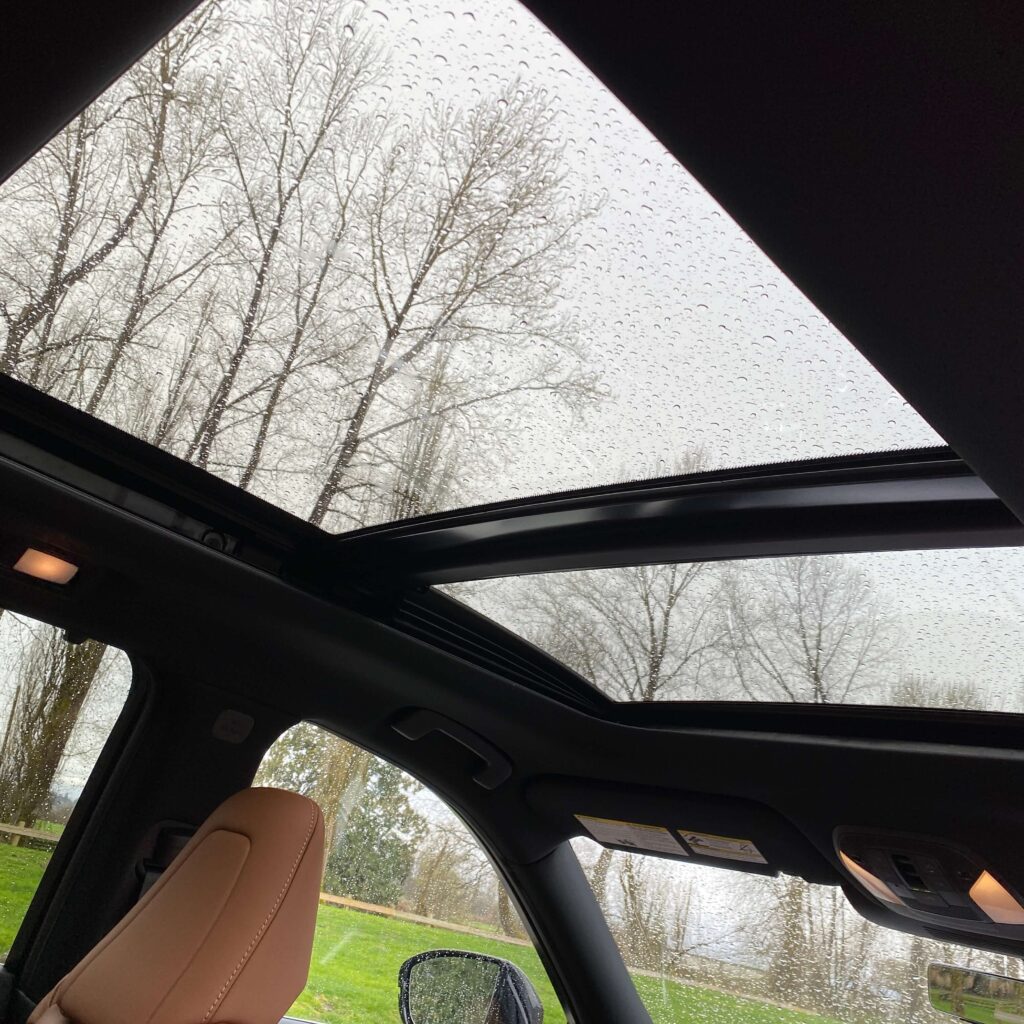 The Autograph trim comes with a very nice digital dash setup. I really like the design and look of it. It has a strange speedometer and tachometer arrangement but that's a good thing. The only bummer is you have to get the top model or you end up with a more traditional dash cluster.
The HVAC controls are not included in the infotainment (thank god). Instead they're set up under a piece of piano black plastic that provides haptic feedback when you use them. This works okay but you still struggle to find the control you're looking for while driving. Buttons and dials would have been better.
Quality
The 2023 Infiniti QX60 looks and feels like a well-made car. The materials are top shelf and while I'll never approve of quilted leather, it's good leather, nevertheless. There were no squeaks or rattles while I drove the car and it was quiet and comfortable.
CQI – 8.
Value
Value for money is where the 2023 Infiniti QX60 really shines. It's a luxury marque that you can use to make your Hyundai driving neighbour feel bad about themselves. It's also well priced compared to its various competitors. The QX60 starts around $57,000 CAD and tops out around $71,000 CAD. For a mid-sized luxury SUV with six seats, this is good value. Other vehicles kind of start where the QX60 finishes while still providing the same size, space and seating capacity. 
Final Thoughts
I want to see Infiniti rise from the muck of obscurity it feels like they've been stuck in for years now. They can make good cars. They have all the tools they need to get the job done. I hope they keep revamping and expanding their lineup with vehicles like the QX60. The QX60 offers all the snobbery we would want from a luxury badge without attaching the usual inflated price tag to it by keeping it simple. I think there's a market for that.