2023 AMG EQS 4Matic+ Sedan
Price: $197,780 CAD
Colour: Obsidian Black Metallic
I was recently afforded the opportunity to take the 2023 Mercedes AMG EQS Sedan for a spin. I didn't have long with it but I couldn't turn down the opportunity to take it for a drive and see what all the commotion was about. I can tell you this, whatever you think of EV's and the coming changes to the auto industry as a whole, the EQS is something very special.
Power & Performance
The 2023 AMG EQS Sedan comes with two permanently agitated synchronous motors. "Permanently agitated" reminds me more of the regular state of my wife's mood on any given day. I couldn't determine what it means in Mercedes speak but I can tell you this, those motors deliver a boatload of ferocious power. You get 649hp and 700lb/ft of torque at any given moment from the EQS's drivetrain. Should this prove insufficient for you there is a temporary turbo boost mode (like KITT in Knight Rider) that will deliver an extra 50hp and similar torque. What you would need this extra kick in the rear for I can't imagine but much like earthquake insurance, it's nice to know it's there. There is endless power and acceleration in this vehicle and it's a sensational experience.
The 0-100kph is listed at 3.4 seconds. Nothing I experience would lead me to disagree with that estimate. For a vehicle of this size and class it seems strangely out of place to accelerate so fast. That being said it is as smooth and effortless as it should be in a car like the EQS.
Charging the EQS could take a while as it has a 107kwh battery pack that can be charged in around 30 mins if you max out the vehicles charging capability of 200kw. Personal experience has shown me that commercial charging realities will have you sitting there much longer than that.  Charging from home will see it done in about 12 hours and with a range of approximately 446kms, which means you certainly won't need to plug it in everyday.
Exterior
The 2023 Mercedes EQS is very much a Mercedes as we've come to know them from the outside. It's relatively understated and doesn't scream EV. What I like that about this vehicle is that it allows us to focus on what makes it a good looking car instead of the pop and sizzle of ostentatious styling choices. This test model comes with optional ($1775 CAD) AMG wheels that are a bummer. They're so boring. I know I just commended this thing for being subdued but there's a difference between subdued and numb.
Interior
The interior of the EQS is refined and layered with high quality materials. Various colors of alcantara. Everything is soft touch and feels good under your fingers. Of particular note were the air vents. They look very much like jet engines spooling up for takeoff.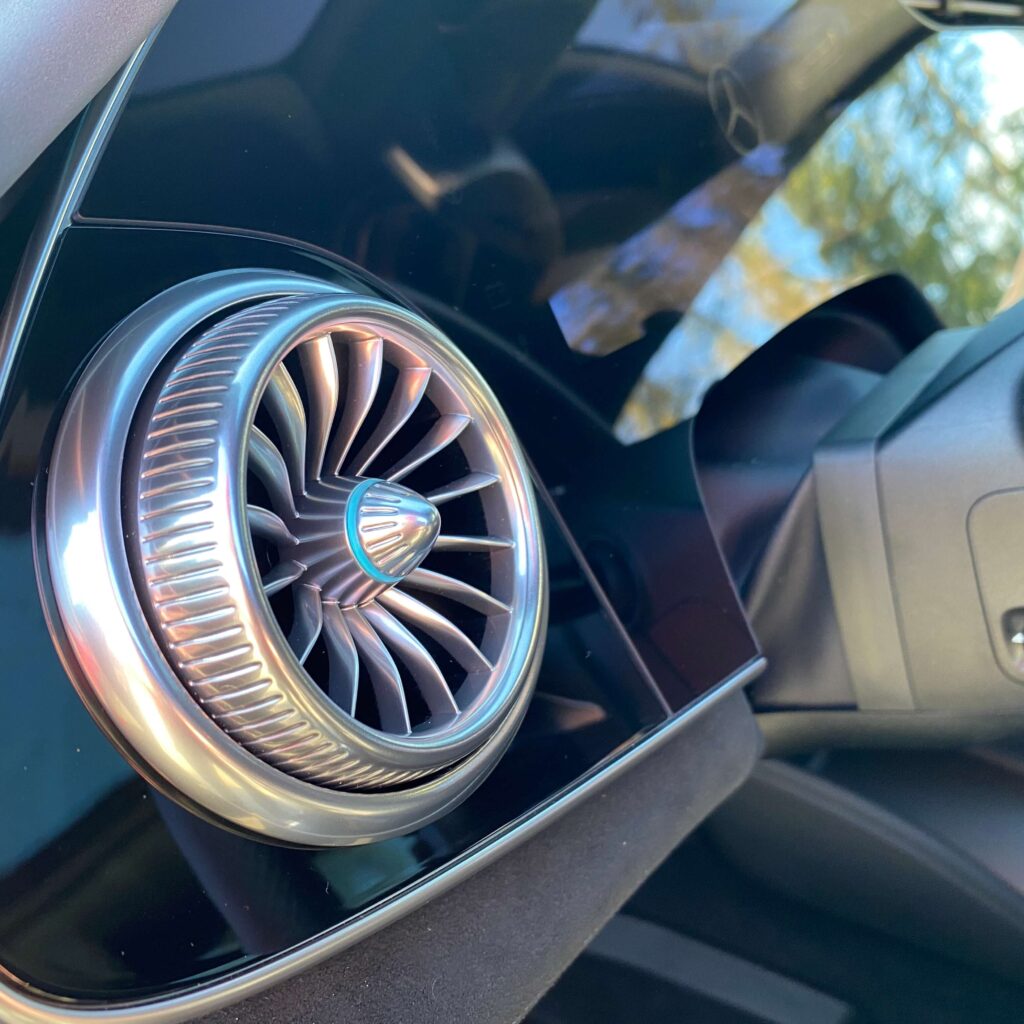 The EQS must of course have the now nearly ubiquitous full-service Mercedes multi-screen infotainment and dash cluster arrangement. It's a striking thing to look at and is relatively functional. I do wish some of the usual HVAC/audio functions were buttons and dials but I know it's not going to happen with this car so why bother worrying about it. Otherwise the screen is huge and comprehensive. The dash, centre and right side screen are all separate but under one pieces of glass. It looks very elegant.
Ambient lighting is on order everywhere in the 2023 EQS Sedan. I didn't get to test it after dark as I would have preferred but even in daytime you can see the scale of it. The colour choice is nearly infinite as well as lighting patterns on offer. Anything you want you can have on the EQS.
Mercedes has opted to include the usual steering wheel controls on the EQS. You get the shifter on the column as standard on Mercedes and on a 200k vehicle I would have preferred to see this made from something more durable than a piece of plastic. A bespoke piece of cast aluminum would have been fantastic. Other functions on the stereo include those curious Mercedes sliders for the volume and cruise control. It works, but seems unnecessarily complicated.
A fabulous Bermeister stereo comes with your EQS. It sounds great and will suit any particular musical genre you might be into on any given day. They have also included beautiful aluminum speaker grilles. I love the look and feel of these things and it's nice to see them included on this car.
Quality
The 2023 Mercedes AMG EQS screams quality. Given what it costs I'd expect no less. The EQS ticks all the boxes of what an uber high-end luxury sedan should look and feel like. It adds up to an elegant and sophisticated automobile that has no significant compromises.
CQI – 9. Excellent carpet.
Value
How does one comment on the value of a nearly $200k super luxury all-electric sedan? One doesn't. I can't begin to process how this stacks up to it's rivals. There are too many variables at play and the EV market is shifting so quickly I'm not confident in lining up a comparison. I can say this however. The EQS feels like what the S-Class used to be. The height of luxury and sophistication. Perhaps then that's what it is. The new S-Class or equivalent. In that case, it could well be priceless.
Final Thoughts
If you're looking to spend $200k on a car you must consider the 2023 Mercedes AMG EQS Sedan. It's an incredible vehicle that provides you with infinite power and elegance and really is a snapshot of what the future will look like. If you had planned on a big German car to be chauffeured around in, the EQS should be at the top of your list.