2022 Dodge Durango SRT 392
Price: $98,000 CAD
Colour: Octane Red Pearl
I owned a Mark I Dodge Durango. I loved that behemoth. I hated filling it up but everything else about it was fantastic. I loved the way it looked and drove and more importantly the way it made me feel. I loved cruising at low speed (not entirely dictated by fuel consumption but I'll admit it was a factor). Few cars feel so good at low speed (the Cadillac Escalade is another). The Durango is a curious animal. The first generation got it nearly perfect and then gave it all away with the second generation. That was just a big, bloated mess. Then came the third generation. It was big, low and sinister looking. I fell in love all over again. As is the way of life I had to wait a decade into the life cycle of this generation Durango to finally slide behind the steering wheel. How nice it is to be home.
Power & Performance
There are many variants of the Durango that utilize both the Pentastar 3.6L and the seemingly ubiquitous HEMI options on offer. The SRT 392 comes with a 6.4L HEMI that pumps out 475hp and a similar amount of torque at 470 lb ft. Coupled to a rumbly exhaust this is a hypnotic combination equal parts fun and ludicrous. There's no need for power like this in a vehicle such as the Durango but Dodge has that singular way of making it all kind of work and almost, if you close your eyes, make sense. The power comes at you in waves and feels limitless. You'll fight the AWD system when you pin it off the line, but she still leaps forward like a wild animal in a way that leaves you smiling all the way to the gas station.
Exterior
The current generation Durango dates back to 2011. There have been minor changes since then, but the bulk of the design has remained the same. That speaks volumes about how good looking this thing is. Much like Raquel Welch (may she rest in peace), this thing got better looking with each passing year. The Durango in any trim is a very beautiful car and in the SRT 392 it gets even better. Lots of bits and pieces enhance the look of the car. The best of these features are the go-faster stripes that run down the length of the vehicle. I'm not always a fan of stripes but on the Durango, they work wonders.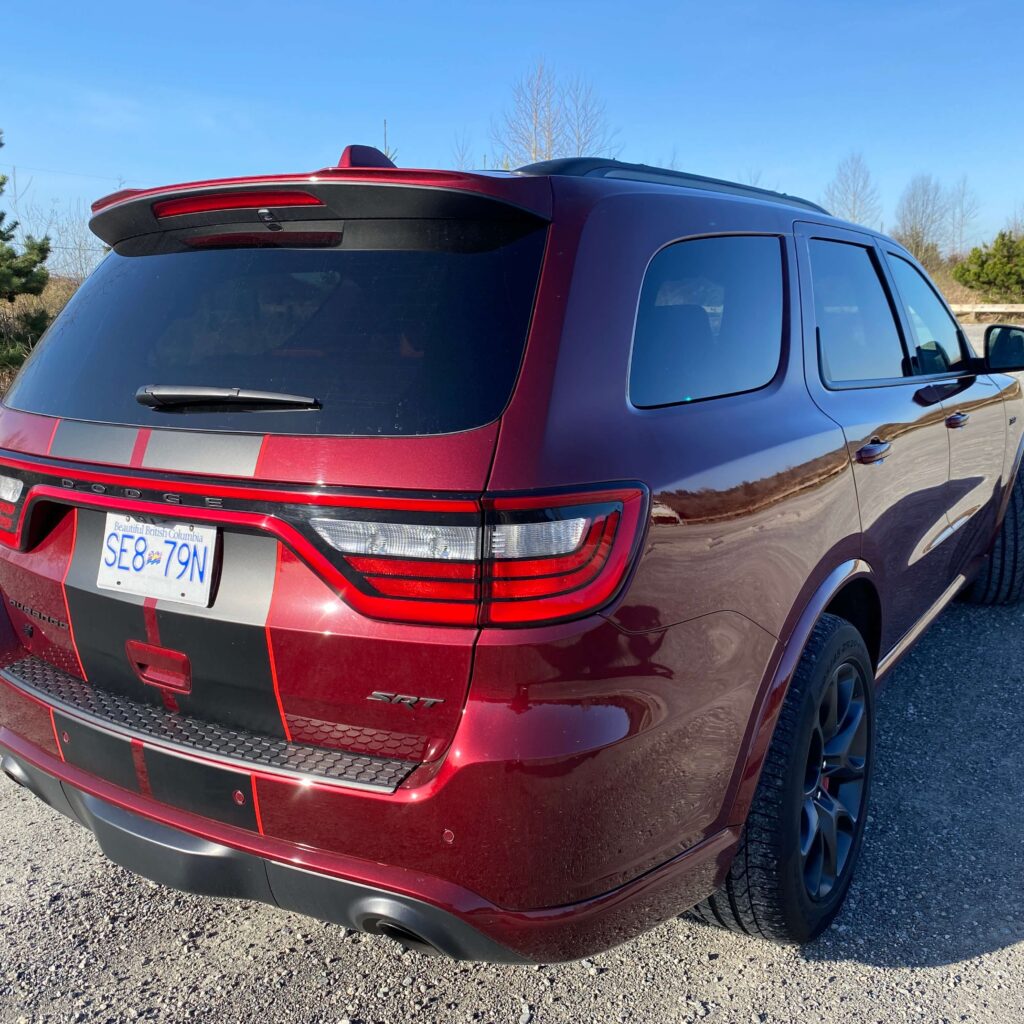 Interior
The Durango SRT 392 is a six-seater arrangement. I've always liked this setup for mid/full-sized SUV's. Squeezing in extra passengers in the second or third row simply ruin the passenger experience for everyone. All three rows also come with sufficient power supply options which is nice to see and makes all three rows usable.
The Dodge U-Connect system is wonderfully functional. Even the very early versions worked better than they should and given how bad some infotainment systems can still be (looking at you Google Built-In), it's a real winner. The screen is more than large enough and all the information you need for the vehicle is at hand. The HVAC controls are accessible through the screen but are also controlled through good old-fashioned buttons right underneath. I approve of this.
Cargo space in the Durango, with all three rows in place, is limited. It will take the daily shop but anything more ambitious will require you to fold down the third row which is an all-manual exercise. Practicality of course, is not what this Durango is all about.
The interior of the Durango is composed of all the usual materials you would expect to see on a Dodge product of this generation. Nothing outstanding but all the horribly cheap plastics of yesteryear are long gone. The leather is of a decent quality but regular applications of conditioner will go a long way to keeping it soft and supple. 
Quality
Dodge isn't blessed with the best reputation for quality, but they have made many improvements over the years. This progression is reflected in the Durango. It feels solid and I didn't detect one squeak or rattle during my spirited driving of the vehicle. Long term quality remains to be seen but initial quality is fantastic.
CQI – 8. Quite nice carpet in the Durango. Nice to see.
Value
What does one say about the idea of telling people you paid $100k for a Durango? It's ridiculous of course. I'd never be able to show my face at book club again. That being said, it does, strangely, represent some decent value. Try and find a similarly sized SUV with the same power and performance that delivers the same sense of fun and joy and you will come up short.
Final Thoughts
I loved the Dodge Durango SRT 392. It was a hoot as my mother would say. It tingles all the important parts of me that matter when talking about a muscle car. It occurred to me after a few hours that's what this Durango is. A good old-fashioned American muscle car. Granted it's an SUV but that's just a reflection of the times. If you prefer a more conventional car setup Dodge has you covered there as well. This Durango though gives you all the modern conveniences and style of a contemporary SUV while retaining the spirit of something wild that came before.