2023 Mazda CX 5 Signature
Price: $46,699 CAD
Colour: Rhodium White
I often mention how much I not-so-secretly love Volvos. They speak to me as a driver and a man. I'm going to let you in on another secret. I feel the same way about Mazdas. I love Mazdas. They are built for drivers and you can feel that when you climb behind the wheel of any of their products (except the CX-3, that was a rare piece of crap). The 2023 CX-5 is Mazda's top selling vehicle in North America, and I can see why. It's a peach to drive and really leans into Mazda's strengths as a manufacturer. It's starting to show its age a bit as Mazda works through revamping their lineup but by no means is it falling behind its competitors.
Power & Performance
There are two engine options for the CX-5. You can have a naturally aspirated 2.5L 4 cylinder which gives you 187hp and the same amount of torque. You can also have a 2.5L 4 cylinder with a turbo attached which (if you pop for 93 octane) will give you 256hp and 320lb/ft of torque. If you choose 87 octane you get 227hp and 310lb/ft which is a compromise I would live with as I don't have enough body parts to sell to pay for 93 octane. The base engine is not a thrilling driving experience but it's not horrible either. The CX-5 is a relatively compact vehicle so the base engine will get it going and you do get the benefit of excellent fuel economy. Should you pop for the turbo engine the CX-5 will fly but you will pay for that, literally, as the fuel economy of the turbo is substantially less than its mouth breathing cousin.
You get a vintage, 6-speed automatic transmission in the CX-5. It's not CVT or DCT or any other idiotic acronym, it's just a transmission that gives you smooth shifts as needed. It could benefit from an extra gear or two so you could extract some better mileage out of that turbo engine, but otherwise this is a wonderful return to a simpler time.
All CX-5's come standard with AWD in Canada. I love this choice on the part of Mazda. Other manufacturers are making the same decision for the Canadian market and it offers huge benefit for buyers. AWD keeps you safe and secure in bad weather and offers great traction when you're hammering on the throttle.
Exterior
I've heard it said the CX-5 exterior design is starting to look a little dated. I must disagree as I think the looks of this car are still fantastic. It's very pretty, restrained and classy. It's not easy to stick with the same design for 7-8 years with few cosmetic changes and not look old, but Mazda manages this with several vehicles in their lineup, including the CX-5. When you don't get too flashy or trendy you get longevity out of a design.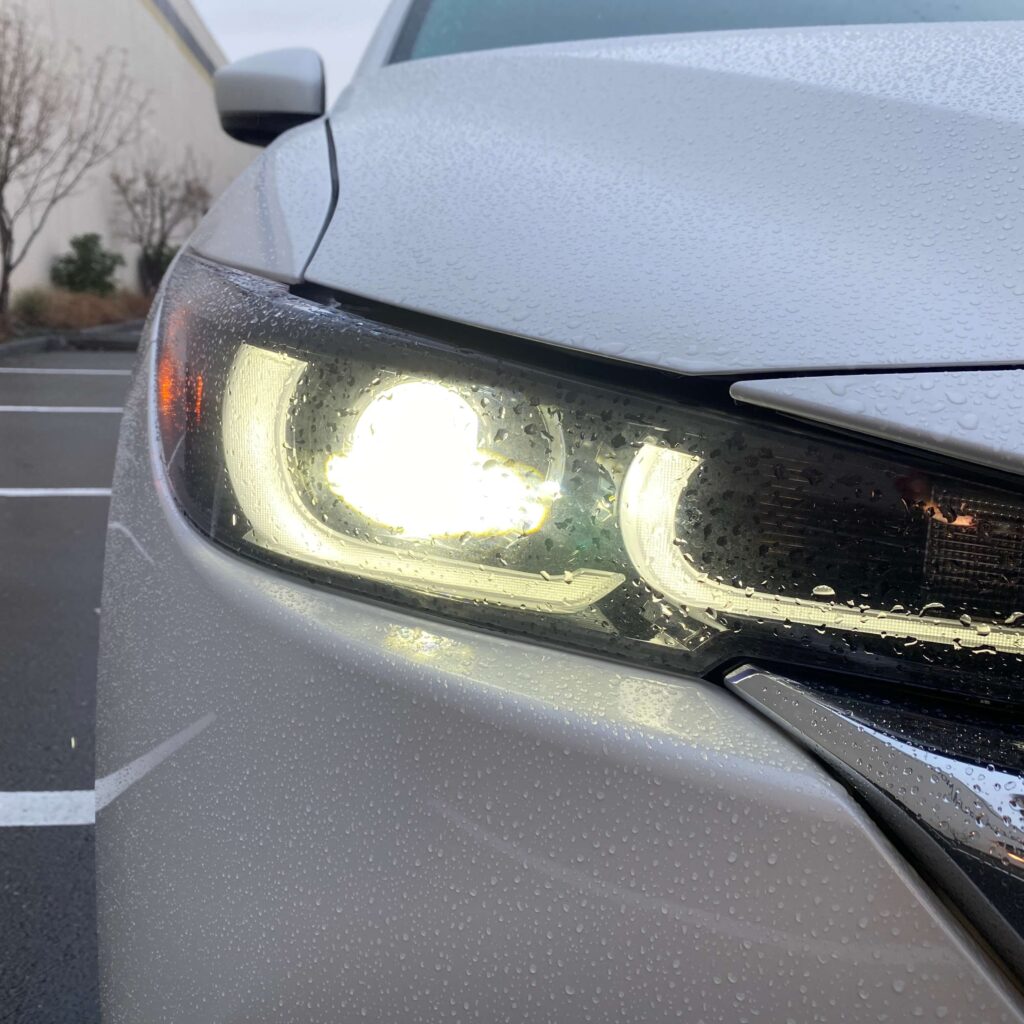 One thing I must note about the Signature trim of the CX-5 is that you get painted cladding. I know, I harp about bare plastic all the time but there's a good reason for it. It ages poorly and looks like crap in short order. The painted trim on the CX-5 looks fantastic and adds a level of premium appearance to an already good-looking vehicle.
Interior
The interior of the 2023 Mazda CX-5 is a great place to be. It feels very high quality given this is, at best, a mid-range vehicle. The fit and finish are fantastic and the interior materials are a wonderful mix of soft-touch, quality materials. Mazda has been moving their interiors upscale for a while now and you can see that in the CX-5. It's so much better than it needs to be.
We must discuss the infotainment system in the CX-5. It's pretty old and doesn't give you much to love. The 3 suffers from the same problem. Unlike the 3 however, the screen is a decent-ish size and is set closer to the driver and not buried in the back of the dash. The camera system on the CX-5 is very low resolution and the images you get are grainy and do the car no favors. The infotainment system does come equipped with Apple CarPlay and Android Auto but there are not wireless. Why oh why is this such an issue? Please Mazda, please. Wireless CarPlay!!! Know that if you choose the CX-5, the infotainment system will make you sad everyday.
In the signature trim you get Nappa leather seats. Since the seats are leather Mazda has included heated and cooling for those seats. I would have expected the heated seats, but you never can tell if they'll include cooling. It's a great option on a hot day. The rear seats are heated as well although they are not cooled. A neat feature of the CX-5 rear seats are the location of the heated controllers. They are mounted in the centre console with the cupholders. Not sure why but I love that they are there if for no other reason than you don't see that very often. It also puts the controls easily at hand instead of on the center console where you might pull a muscle stretching to reach it.
The interior of the CX-5 is compact. I won't call it small but anyone over 6' is gonna struggle in the back seat, particularly if a similar sized person is driving. The rear seats will take two adults just fine and you could squeeze three kids back there with ease. The front seats offer good headroom and legroom, although the latter will come at the expense of the rear seat occupant.
One thing that drove me mental about the 2023 Mazda 3 was the lack of wireless charging. It isn't even an option on that vehicle. Fortunately, it is included in the Signature trim of the CX-5 and is an option on other trim levels. This is an important piece of equipment as there is nothing worse than wires running all over your car. You end up spilling stuff on them and stepping on them or sitting on them. As someone who spends a lot of time in their vehicle, wireless charging is crucial and I was thrilled to see it on the CX-5. Curiously it does feature a little lip to keep the phone on the inclined pad. This mostly works but a strong bump will knock the phone off the pad. I'm not complaining as I don't want Mazda to take it away, just keeping you informed.
The cargo area of the CX-5 isn't huge but it is still useful. More than enough space for the regular shop. You can of course manually fold the rear seats as needed but they will catch the back of the front seats more often than not. You do get a powered tailgate in the rear which you can open from the key fob which was nice to see as some manufacturers might have taken that opportunity for a little cost savings.
Quality
The quality of a new vehicle can be an ethereal sort of thing. As journalists we don't live with these vehicles for more than a week at a time so we can't speak to how they hold up over the long run. That being said the CX-5 has an excellent reputation among the people that own them. The initial quality is also very high and it's kind of an important part of what you're paying for. This feels like a quality product. The CX-5 is also made in Japan. I know the way a vehicle is made is more important than who makes it, but the Japanese are a people with a spectacular attention to detail and it would give me great comfort to know they were the ones who assembled my car.
CQI – 8. Solid quality carpet in the CX-5.
Value
The 2023 Mazda CX-5 is a great car and is well built and good looking. It's also under siege by a nearly unlimited number of competitors from nearly every other manufacturer. This poses a problem as companies like Hyundai and Kia offer cutting edge tech and toys along with similar trim levels and improved fuel economy (when compared to the turbo CX-5). Should you veer toward the likes of Honda and Toyota you get a little less toys than the Koreans but it's still superior to the Mazda and far superior resale value. All this being said none of the other offerings that I've had to opportunity to test give you the dynamic driving experience of the CX-5. This has always been Mazda's secret weapon.
Final Thoughts
I like the CX-5. It is however due for a ground-up redesign if they don't simply cancel it in favor of the CX-50. Only time will tell. With some key updates this thing would still be a top contender and kind of an obvious choice. That being said I think as it stands right now, it's still an obvious choice. If you care at all about how your car drives or handles, you have to consider the Mazda. Its competitors offer a similar spec sheet with some additional toys but what most of them can't offer is that sensation of man and machine in harmony. That's what you get when you buy a CX-5.