2023 Volvo XC90 Recharge Ultimate
Price: $93,550 CAD
Colour: Denim Blue
It's time for an update my friends. My relationship with my wife is in deep trouble. She's discovered my secret. She knows I'm in love with someone else. She swore she'd never read a review or watch any of the videos I make. She lied. As a result, she now knows of my deep and intense love for Volvos. I denied nothing and I'll deal with the consequences whatever they may be. The 2023 Volvo XC90 Recharge has put the final nail in the coffin of my delusion that there is anyone else in the world for me other than the Swedish arrow.
Power & Performance
Anyone who reads my reviews knows I'm not a speed merchant. Not even close. The appeal of cars for me has always gone beyond how hard it kicks me in the ass as it hurtles me down the road. Needless to say, I wasn't looking for anything life altering when I put my foot down while cruising the highway in an effort to pass a peasant in their Ford Escape. Imagine my surprise when almost instantly the car leapt forward and rocketed past the Ford with such ease, I thought I'd left the ground and taken flight. The sensation was thrilling and fun, but never scary. That wouldn't be very Volvo-ish.
Power in the XC90 Recharge comes from the T8 powerplant which is a twin-motor hybrid system that delivers 462hp. That grunt will get you to 100kph (60mph) in about 5 ½ seconds. While that's not earth shattering by Ferrari standards it's very impressive in a Swedish bus that can haul seven people (as long as 3 of them are kids) to all the daily activities with ease. The way that power is delivered is what really did it for me. I never felt unsafe when I put my foot down and confirmed the 0-100 time. I was always in control of the car while doing a bit of light hooning around a quiet road. Then, as I eased back into populated roadways and was surrounded by other vehicles, the XC90 transformed immediately into a civilized and sophisticated land yacht. That's a hard trick to pull off and I think it boils down to the idea of compromise. Most vehicles these days are engineered for sportiness and they sacrifice elements of comfort and quality in order to achieve it. Volvo chose comfort and quality first, then added as much power and performance as they could, without compromising any of its core elements.
One curious thing that stood out when I climbed behind the wheel of the XC90 is that it has no paddle shifters. As much fun as this car was for me to speed around in this one little detail tells you that Volvo has no pretensions about considering this a sporty car. It'll go if you ask it to but that's not its primary purpose. I like the confidence in this decision.
Exterior
Volvo design has always left people in love or cold as a block of ice. Everyone has an opinion regarding the looks of Volvos. Modern Volvos are far better looking than they used to be, and I will say that some of the inherent Volvo-ness has been lost as they have moved to a more contemporary design architecture. The XC90 is a very good looking car. Since its inception it has always been handsome and, like George Clooney, has only improved in appearance over the years.
The grille on the XC90 is a fabulous bit of design. It is wide and large without overdoing it like so many others do. It blends into a really long hood which caught me off-guard when I popped it open and couldn't hold onto it as it went all the way up.
The XC90 is very low slung for a vehicle of this size and class. Americans make their 7-seaters with a very tall seating position which I've certainly become accustomed to. Volvo has said this is unnecessary and kept their seats lower to the ground along with the centre of gravity. This leaves the vehicle very stable and solid feeling without any of the pitching and rolling you would commonly find elsewhere.
Interior
The interior is where a Volvo really shines. The Swedes understand that, as owners, we spend all our time inside the car and that is where they make things count.
This test model comes with the Nappa-leather interior which is absolutely lovely and of a very high quality. My buttocks were cupped and coddled by the seats and made me feel like I was at a Swedish massage parlour having the stresses of the day eased away by a lovely lady named Helga. That being said, this upholstery is an optional extra that you only get at the higher trim level. You would do just as well with the wool-blended fabric seats which I actually prefer and they would stand up longer under the onslaught of my children.
I remember when the XC90 was released and it was hailed as a fabulous family SUV with a full seven seats for all to enjoy. Much was made of its accessibility and useability. I'm not sure what's changed but the 2023 model doesn't seem terribly serious about the third row. Access to the third row, as is so often the case in smaller 7-seaters, is a bit of a disaster. The seat folds forward a bit and slides a touch, but if you've eaten in the last three days you're not getting through that gap as a full-sized adult. It should have folded in half and then up against the driver's seat just to make it simple but for reasons I can't explain, it doesn't. Instead, you get a gap a runway model would struggle to fit through (one of the skinny ones and not those healthy body image types). Clearly the two seats in the back are for kids only and I would reckon kids over the age of 12 are going to struggle to get back there.
Strewn all over the interior of this particular XC90 are aluminum speaker plates emblazoned with the name "Bowers & Wilkins". Clearly this was some sort of fancy stereo manufacturer, but I will admit it's one I've never heard of. I did some Googling, and it turns out they are indeed a very high-end manufacturer of audio equipment. Typically, at this trim level you get a Harmon Kardon stereo which is already a premium system. Feel compelled to add an extra $4,000 CAD and you can have this even more premium English stereo. Not having heard the Harmon Kardon system I can't compare directly but I can say this Bowers & Wilkins system is very impressive. It's clear and you can listen to Weird Al's Greatest Hits as loud as you like, and the accordion always sounds great. I'm not sure I could square the cost but if audio quality is your thing, this is top shelf.
We must talk about the Google Built-In infotainment system that comes on the XC90 and other Volvos. It's not spectacular. I'm not going to sugar coat it. I saw a similar system on another Volvo and couldn't make heads nor tails of it. This one is better. That being said, I'm stunned this is in a 100k production vehicle. It feels like beta testing equipment that has a litany of bugs that still need to be worked out. I'm sure there's a good reason Volvo has opted to use this system in their cars, but it needs work. As of now I'd rather use the old stone-age Mazda or current Nissan infotainment systems than this thing.
Quality
If Volvo can't compete in the quality game with their European rivals, then all is lost. They should pack up shop and send everyone home. Fortunately, the XC90 is a high-quality automobile. The fit and finish are excellent, and the materials used are of ultra high quality. The leather and Alcantara chosen are soft, plush, and fabulous. The carpet is lush and has actual cushion in it. The plastics are solid and don't rattle so I don't mind them being there. There are a few bits of shiny nonsense and I can't imagine how they got there, but nobody is perfect.
CQI – 9. The carpet felt very soft and luxurious in the XC90, and I heartily approve. Another reason this car was clearly made for me.
Value
Competitors for the XC90 are the likes of the BMW X7, Mercedes GLS, Lexus LX and Audi Q7. The problem with these cars is that their prices start where the Volvo tops out. If you want the same level of power and options, you're looking at another $20-30,000 CAD. Consider the 100k starting point that's a big ask. You could consider the Acura MDX but it's nowhere near as luxurious and nowhere near as nice to drive. So, curiously, the XC90 kind of sits alone in its own Scandinavian oasis, waiting for me to sign the papers.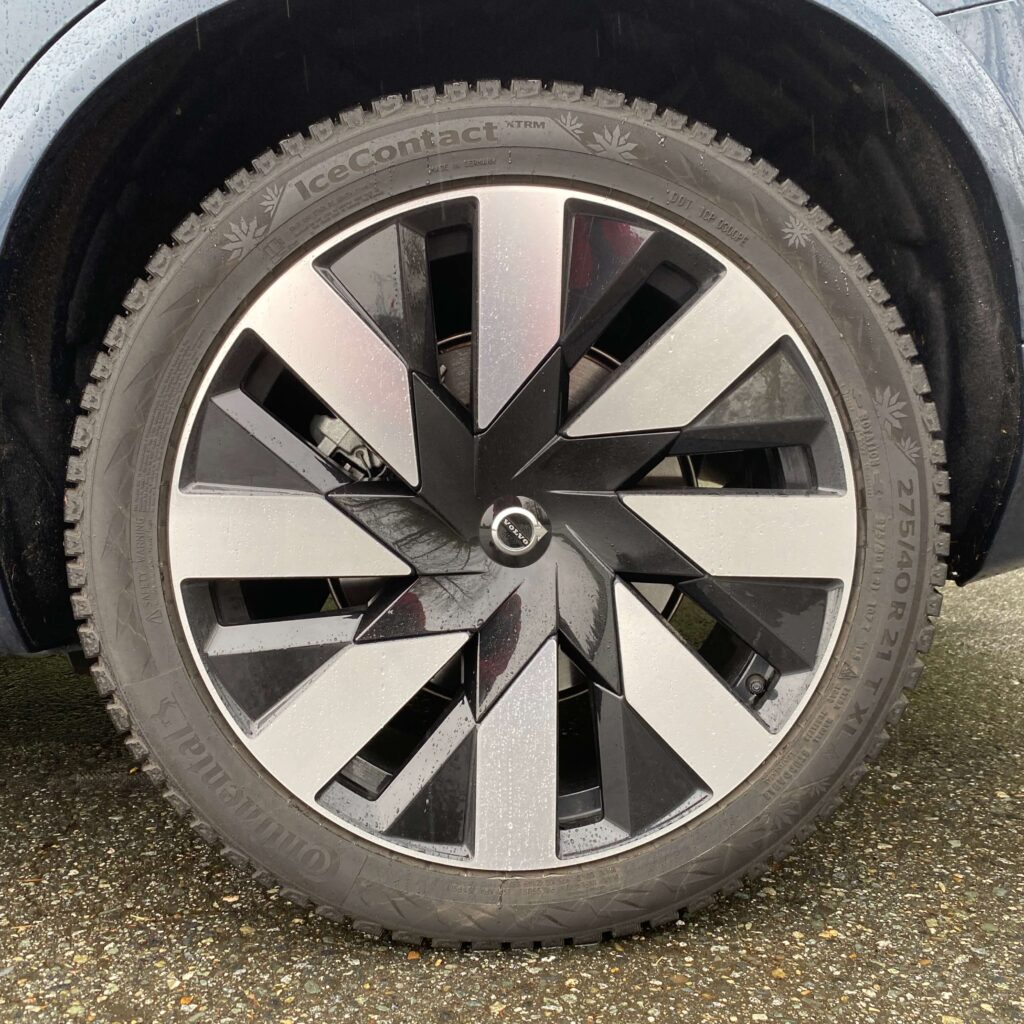 Final Thoughts
The 2023 Volvo XC90 Recharge has re-affirmed my continued love for Volvos and put my marriage on the rocks. It's a fabulous car that's well built and offers good value in its segment. When Volvo sort out the infotainment unit and third row access this thing will be nearly perfect. It offers someone like myself everything I need and want in a relationsh – I mean car. I can cruise in comfort on hot and cold days. I can eat up the miles on the highway or survive the traffic scourge we face on a daily basis. The XC90 does it all. I can hear it now… "Come and get me Tracey, you know you want me." Yes, I do.