2023 Volvo S60 Recharge T8 Black Edition
Price As Tested: $64,050 CAD
Colour: Crystal White
I've been married for nearly 20 years. While my marriage is by no means perfect, we do okay, and I've never seriously considered stepping out on my wife. Recently however, a series of Swedish beauties have been smiling at me, whispering sweet nothings in my ear, and telling me exactly what I want to hear… and I think I'm in love. I didn't mean for it to happen, it just did. The latest lovely lady that's come my way is the 2023 Volvo S60 Recharge. My favorite Volvo remains the V60 but my oh my, does the S60 Recharge give her a run for her money.
Power & Performance
Volvo has never been renowned for power and performance. Their bag has always been quality and safety. Recently however, Volvo has started having fun with their designs. Part of that joy is their Recharge line of vehicles. The "Recharge" moniker is what they call their PHEV/EV lineup. They offer numerous models with the PHEV powertrain found in this S60 and, for reasons I can't explain, have gifted it with butt loads of power. The S60 Recharge comes with a 2.0L Turbocharged ICE engine as well as an electric drivetrain that combine for 455hp and 523 lb/ft of torque. That's a lot. It's not just a lot for a Volvo, it's a lot full stop. That amount of power turns the S60, a reserved four-door sedan, into a proper rocket. I was stunned by this powertrain in the XC-90 and loved it more in the S60. When you combine that much power with AWD and a smooth transmission like the 8-speed in the S60 you get a magical driving experience. Wherever you go, whatever you're doing and however you need to drive, the S60 Recharge has got you covered.
Since the S60 Recharge is a PHEV we should discuss the electric range of the vehicle. Lots of PHEV's have horrible all-electric range (looking at you Lincoln Aviator) and I've often criticized the increased cost and complexity of two drivetrains in a vehicle that only goes three blocks before running out of electricals. The S60 Recharge is an answer to that problem. It comes with an 18.8 kWh battery that Volvo says will give you 64km (40 miles) of all-electric range. My real-world testing revealed an actual all-electric range of 55-60kms, which is better than I expected. With the average round-trip commute in Canada sitting between 40-50kms, this works perfectly. You'll get back and forth to work and to the grocery store on weekends without using a drop of gas. If you need some more on any particular day that 2.0L is always there for you. This PHEV system works very well and, mercifully, isn't just marketing nonsense but an actual useful tool for your daily drive.
Exterior
I mentioned earlier how the Swedish beauties had turned my head recently. The S60 is one of the prime offenders in this regard as the car is stunning to behold. It has beautiful lines and perfect proportions. In a market dominated by lumpy SUV's this thing stands out as a sleek and slender knockout. It attracted a great deal of attention during my time with it (even in that boring as all hell white). I have nothing else to say. Perfect.
Interior
Volvo interiors are pretty reserved affairs. There isn't all the flashy tinsel you get from other luxury marques which works great for me. If I have a criticism of the S60, and I'm not sure I do, it's that it has the same Volvo interior as nearly all of its siblings in the Volvo lineup. This is very common in the car world these days and said interior is excellent, so I typically give Volvo a pass on this. It would be nice to see some small changes to create a more bespoke feeling but it's a small criticism.
All trim levels of the S60 come with a delightful panoramic roof. I keep expecting Volvo to restrict this to higher trims to bleed us for more money, but they continue to surprise and maintain their humanity by giving us real value across the range.
Okay, fair warning the next item might put you to sleep but it's a highlight of all Volvos that deserves recognition. The door pulls Volvo fits to their cars are awesome. They're shaped such that you can slide two fingers in and pull open the door with ease and comfort. You don't lose the handle or fumble with it at all. I know, boring but sometimes it's the little things.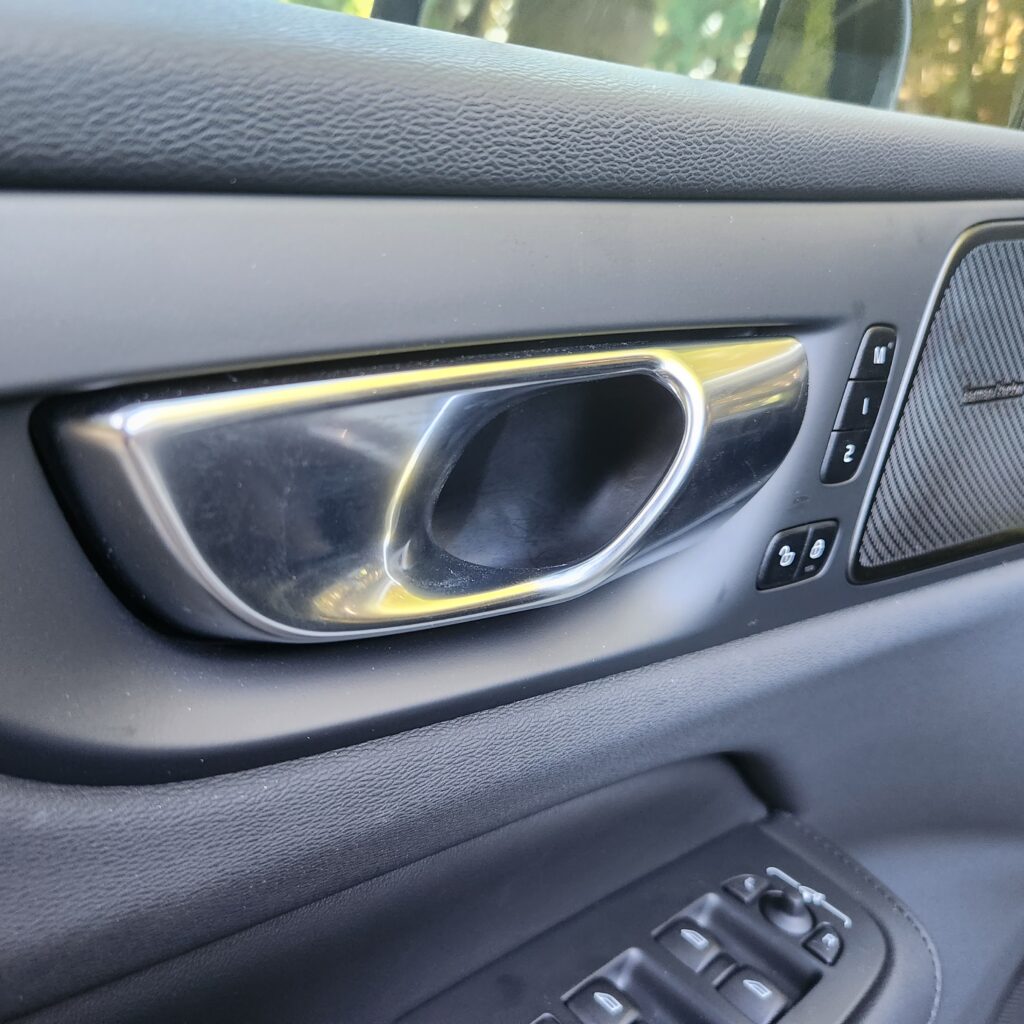 For a low slung sports sedan the S60 has excellent visibility. The greenhouse is wide open and you can see everything as you tool around. I would have expected blind spots and hard to see bits but the S60 interior gives you full access to your surroundings.
While the S60 features a nearly identical interior as so many other Volvos, it's not to be dismissed. It's a wonderful place to be and it's driver focused. It's also comfortable, well built, quiet and full of quality materials that talk me off the ledge that daily life inevitably drives me toward.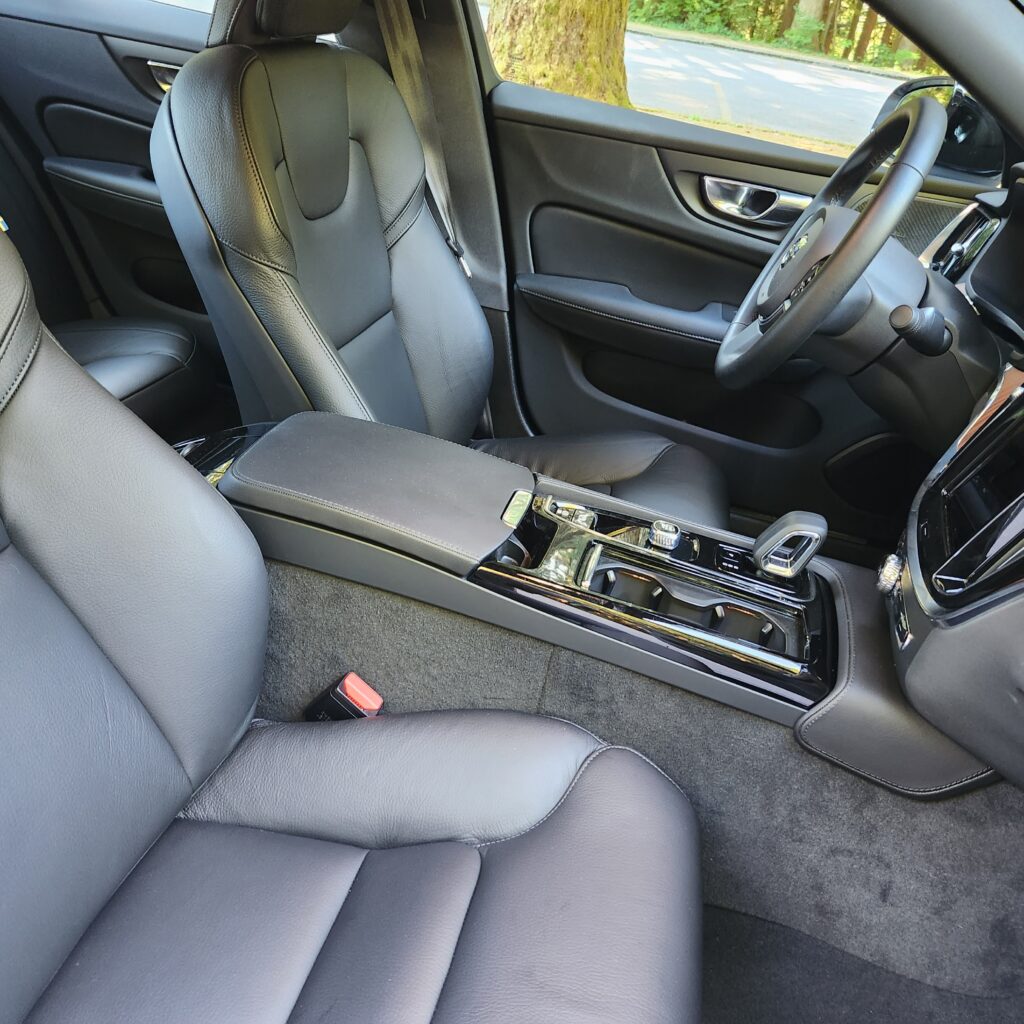 Quality
Impeccable. The 2023 S60 is as well made as it is beautiful. I found nothing to criticize in this vehicle's composition and assembly. Volvo makes great cars and this is one of them.
CQI – 9. What else can I say, great carpet.
Value
The Volvo S60 Recharge starts at $54,950 CAD. That's a lot of money but when you factor in this class of vehicle and what it gives you, it's the bargain of the century. The starting trim is referred to as the Core. After that it's the Plus and the top of the line is the Ultimate trim. You don't need any of these. The base Core trim is the one to buy and you'll love it. You get all the good looks, power and sophistication of higher trims but can save yourself much monies. You won't get more for less anywhere else no matter who you look at. Like so many Volvos, the S60 stands alone.
Final Thoughts
I'm going to discuss my behavior with my wife. Perhaps she'll understand, maybe she won't. What I do know for sure is that, when it comes to all these beautiful Swedish ladies vying for my attention, I'm helpless. I can't resist. The S60 is an intoxicating temptress that makes me do things I wouldn't normally do… and I kind of like it.