2023 Genesis GV70 Electric
Price: $84,150 CAD
Colour: Uyuni White
The electrification of our driving experience is in full swing. Ever since Tesla successfully proved the technology and the business case the industry has been shifting and attempting to catch up. The manufacturer doing the best job of it is Hyundai. They have the largest amount of full electric models you can buy across three brands. This means Genesis has electric cars on offer and that includes the impressive GV70. This electric variant of their small/mid-sized 5-passenger SUV/CUV does nearly everything right and proves that once people get past the cult of personality around Tesla, it might be Hyundai that rules the electric roost.
Power & Performance
Electric drive has, very quickly, come to typify large amounts of horsepower and torque. It's the nature of electric motors and is one of the reasons they suit cars like they do. The GV70 Electric has dual 160kw motors that pump out 429hp (483 if you play with the boost button) as well as 516 lb/ft of torque. That's a lot. Not only is it a lot but it comes instantaneously and, once you get used to it, is hypnotic. I'm not a lead foot or aggressive driver by any means but something about the EV driving experience brings out my angry side and I like that version of Tracey. The GV70 is great fun to ride. The suspension works well at keeping all that power on the road and the vehicle driving straight. This is how you do an EV SUV.
The GV70 Electric comes with a 77.4kwh battery pack. It's part of Hyundai's industry leading EV architecture and as such you can charge this thing from 10-80% in 18 minutes if you can find a charger that delivers 350kwh of juice. That's hard to find anywhere but it does kind of future-proof the vehicle as the infrastructure slowly builds out and catches up to the cars that are available. Curiously you can also charge the GV70 on a household outlet. This isn't available on most EV's and it would take you 3 weeks to fill the batter on that trickle charger but it tickles me that it's available.
Exterior
Right off the bat, the GV70 is gorgeous. It has lovely lines and fluid design cues. The grille is solid as this is an EV and the vehicle isn't a mouth breathing gas burner. The roofline is low but not so low as it interferes with getting in and out of the car. I love the sleek headlights and upper and lower grille arrangement. The whole car is lovely. My only concern is that it looks exactly like a slightly smaller version of the GV80. So much so that I probably couldn't tell them apart from a distance as my eyes don't work as well as they used to. Far too many manufacturers make nearly identical looking cars of slightly different sizes and Genesis seems to be adopting a similar policy although there is hope as the GV60 has a look all its own. More individualistic styling is a must for passionate investment on the part of buyers.
Interior
Genesis puts excellent interiors in their cars. The GV70 Electric is no different. It's a calm place to sit. The interior is elegant and sophisticated. You get alcantara headliner, ambient lighting and a pseudo-massaging seat program designed to keep you relaxed and content. Mission accomplished. It's a great place to be, and (if you can find chargers) it would make a wonderful road trip car.
Genesis has some of the best infotainment offerings in the business. You get a 14.5" screen the GV70 and it's HD with wonderful resolution. The Prestige trim comes with 360 degree camera system that is crystal clear and easy to see. The only shortcoming of the entire operation is the wired CarPlay and Android Auto. This is a quirk of most Genesis infotainment systems. Odd.
I'm not sure why, but the Genesis GV70 Electric features a "boost" button on the steering wheel. It gives you an extra burp of horsepower on top of the abundant amount already present. I suppose if you're compelled to live out your Fast and the Furious fantasy while cruising in silence to work, this is like electric NOS. Makes sense to me.
Quality
Impeccable. Nothing else need be said. The 2023 GV70 Electric feels like an exceptional piece of equipment. The materials used are high end and it all seems bolted together properly. There were no squeaks or rattles. This EV was as silent as a church on a Thursday. Fantastic.
CQI – 9. Excellent carpet
Value
EV's are expensive. This is a trend that has become clear in recent years. The GV70 Electric is no exception. At 85k, this thing is a pretty penny. It's also a lot of car for the money. It's also cheaper than most of its competitors. The Germans are north of 100k (and the EQS SUV is hideous to look at), the Lexus RZ 450e is priced similarly but isn't as good looking and feels too much like a prototype than a production car and Acura doesn't have an EV to compete. The GV70 is a great choice and in a lot of ways, might be the only choice.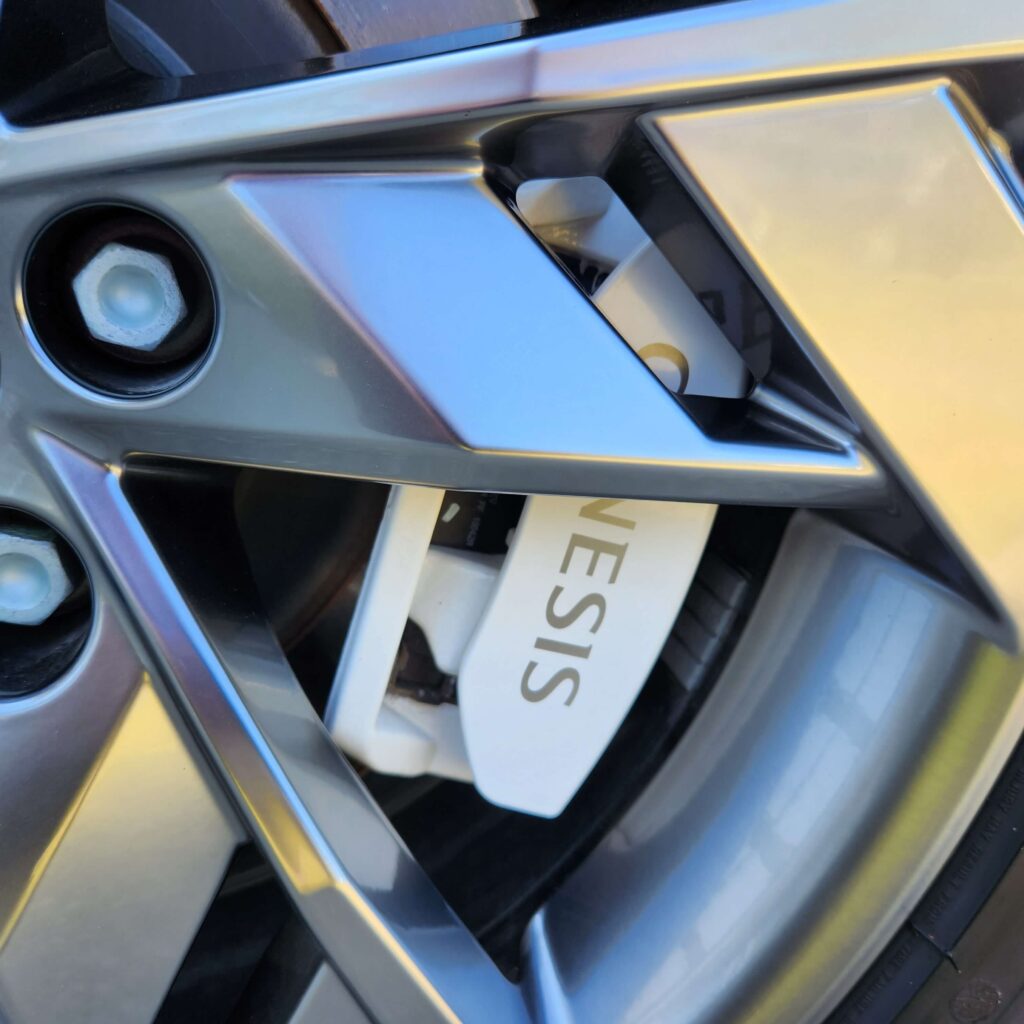 Final Thoughts
I was thoroughly taken by the Genesis GV70 Electric. As I mentioned at the beginning, Hyundai is all-in on the BEV segment and in a few short years have leapt to the top of the heap. They may not sell as many as Tesla yet, but if they keep making them like the GV70, it won't be long. In order to remove barriers to change the process must be as smooth as possible and cars like the Genesis GV70 are so similar to their planet killing cousins we barely notice the difference.